The sun was setting at 7:30 on Sunday, September 28th as the staff at Robert T. Lynch was helping me clean up the tables and chairs we had put out for our first Beanpot Tournament. In the midst of taking pictures of the winning BC Club Golf team on the 18th green, an elderly gentleman from the staff suggested that we take the winning team picture in front of the iconic statue of Francis Ouimet and Eddie Lowry that subtly greets all players walking to Brookline's municipal golf course. 
Unfortunately we didn't take the picture in front of Francis' statue, nor can I confidently say how many Beanpot golfers knew about about Francis' 1913 US Open underdog victory.
As a golf historian and Bostonian, Francis' story is near and dear to my heart. In 2006 back in high school, I wrote my American history paper on how Francis' victory opened the game golf up to the American blue-collar class. Further, Kris Hart and I originally met fundraising for the Francis Ouimet Fund (offers a scholarship we both received) at their annual charity marathon back in 2008. While the best way to learn about Francis' story is to read Mark Frost's Greatest Game Ever Played, many of our millennial golfers probably know the story from Disney's production featuring Shia Labeouf.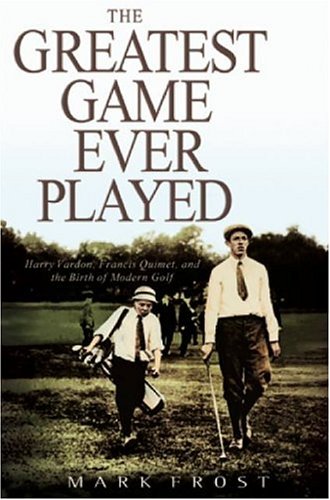 Francis grew up caddying at The Brookline Country Club which golfers in the know refer to as The Country Club. While crafting his swing after the gentleman whose bags he carried, Francis became a star in the high school Boston golf scene. With his house across the street of The Country Club's 17th hole and a makeshift 3-hole course in his backyard, golf was all around Francis' life despite his father's strong distaste for the aristocratic class of TCC's blue-blood membership.
Against all odds, Francis went on to change golf forever in what Frost aptly dubbed as The Greatest Game Ever Played. In this multi-part series, I will dive into Francis' story with the goal of having more millennial golfers truly appreciate this wonderful American golf story.
Every golfer -- be it a club champion or someone making their first swings on the range -- will be inspired by what went down in the 1913 U.S. Open. My goal is to share this inspirational golf story with the Nextgen community. 

**Mike Belkin is a Co-Founder of Nextgengolf and Director of College Golfer Happiness. Contact him on Twitter @MikeBelkin11