Francis Ouimet had to earn his way by qualifying for the US Open at the The Brookline Country Club, a devilish test of a course that then measured 6,200 yards with undulating, small greens. In the early 1900's, golfers did not routinely break par as they do today. It therefore came as a surprise when Francis shot out of gates with qualifying rounds of 74-78 (on the then par 74 TCC), leaving hime one stroke behind Harry Vardon.
Harry Vardon's American Tour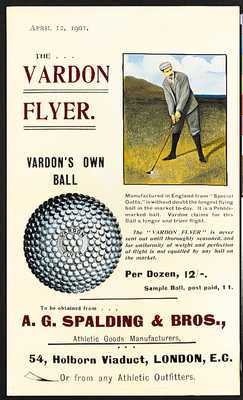 At the turn of the 20th century, The Spalding Company had manufactured their first rubber-core golf ball which they called "The Vardon Flyer". The company paid Vardon 2,000 euro up front to come play America's finest courses while advertising their golf ball.
Several years prior, when Vardon entered the states for the first time, he exhibited a new standard of golf when he trounced his American counterparts and shattered course records on approximately half the courses he played. Vardon went to lose only one match to a local pro in Miami on a course which had greens composed of rolled and oiled sand!
America's First Golfing Hero, Part 2
During Vardon's Tour, a Boston sporting goods store called Jordan, Marsh & Co. caught wind of the mythical golfer and paid him to come by and hit balls in the store for a half-hour. Vardon entered the premises greeted by over one-hundred golf-starving Bostonians including a then seven-year-old Francis Ouimet.
Francis Ouimet's First Round
After Francis' miraculous showing in the qualifying rounds, Thursday's newspapers were flooded with allusions to Bunker Hill, Lexington Concord, and Valley Forge. This championship had a Ryder Cup-like feel in that it pitted the finest European players against top American golfers such as Jim Barnes, Alex Ross, Jerry Travers, Johnny McDermott, and Walter Hagen.
Unfortunately for Francis, the qualifying round magic did not transfer of to the first tee of the actual championship where he snap hooked his first shot. Aided by the optimism of his 13-year-old-caddy, Eddie Lowry, who developed a routine of saying, "Keep your head down and I'll watch the ball," Francis managed to regain his nerve after making the turn in 41 strokes.
When Francis teed off at 10:25 that morning, the majority of fans flocked to watch the European legends Harry Vardon and Ted Ray. As the first round reached it's conclusion, however, local Bostonians were lining up in droves to catch a glimpse of Francis' strong finish. Amidst spitting gray skies and the immense opening day pressures of his first U.S. Open Championship, Francis played the last 15 holes of his opening round at even par.
**Many of the facts derived in this multi-part series stem from Mark Frost's "Greatest Game Ever Played"
**Mike Belkin is a Co-Founder of Nextgengolf.  Contact Mike on Twitter @MikeBelkin11