Francis Ouimet was cut from a different cloth than the typical aristocratic gentleman teeing it up in the early 1900's. While golf has become more of a common man's game over the past century, when Francis was breaking onto the scene, golf was truly a rich man's game.
From Caddy to Golfer
Francis' father Arthur, a French-Canadian Catholic immigrant, spoke with a thick Quebecois accent. He had no formal education and fought being scorned as a "Frenchie" by unwelcoming Bostonians. Arthur's mission was to provide for his family and he thus only supported efforts that would help the Ouimets get by.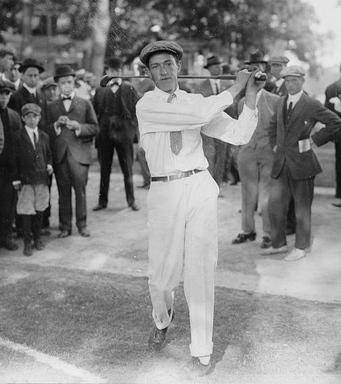 A constant reminder of why Arthur did not feel welcome, The Ouimet's house was located across the street from the 17th green at the exclusive Brookline Country Club's 17th green.  It comes as no surprise, therefore, that Arthur did not approve of Francis' status as a teenaged amateur golfer because he could not make any money from his craft. Arthur connected success to money, and consequently scorned Francis for focusing his time and efforts on a craft that didn't help put food on the table.
Like so many of us who have experienced the goodness of caddying, Francis ended up taking a profound interest in the game and started sneaking onto "The Country Club" in the early hours of the day to play before members arrived. Armed with his personal collection of Vardon Flyers, Henleys, Silvertowns, and Ocobos golf balls from the woods of TCC, Francis honed his swing on a makeshift 3-hole course in his backyard.
 America's First Golfing Hero, Part 1
Francis Ouimet in High School Golf
Francis' first big win occurred at the Greater Boston Interscholastic Championship (contenders included Brookline High, The Fesseden School, Roxbury Latin, Brighton High School, and Worcester Classical High) where he defeated Ronald Waitt, ten up with 9 holes to play at the Commonwealth Golf Course (I'm not sure what or any connection there is to the current Newton Commonwealth Golf Course that Nextgengolf has hosted many events at).
Amateur Golf
When 1913 rolled around, Francis' game had morphed into prime shape in more serious competition. The Massachusetts Amateur routinely brought out the best amateur golfers in the state, and Francis had his game at a high level heading into the championship at Wollaston Country Club. Francis narrowly escaped defeat at the hands of Ray Gorton who missed an 18-inch putt that would have sealed the match. Francis went on to defeat Ray in sudden death and eventually beat Frank Hoyt 10&9 in the 36-hole championship match.
Francis' good play continued as he moved on to compete in the National Amateur Championship which was held at the Garden City Golf Club in Long Island, New York. Francis successfully qualified for the tournament and defeated his first round opponent. In the second round Francis ran into Jerry Travers, the then three-time National Amateur Champion and undisputed top American golfer. Travers defeated Francis en route to his fourth national title.
Despite the loss, Francis' golf game was peaking at just the right time.
**Many of the facts derived in this multi-part series stem from Mark Frost's "Greatest Game Ever Played"
**Mike Belkin is a Co-Founder of Nextgengolf.  Contact Mike on Twitter @MikeBelkin11