I don't know if I've anticipated the end of winter/start of golf season as much as I am this year. Normally I get antsy and make my way to some heated range stalls when I see the first handful of ads for the Masters, but this year presents an entirely new challenge: My brother and I are seeing who can get their handicap the lowest by the end of the season...playing backhanded.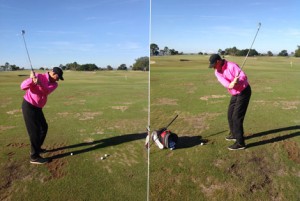 (Above: Photo of Jim Kaat -former MLB pitcher who has shot his age from both sides of the ball, WOW)
HOW IT STARTED:
One weekend towards the end of fall semester, I was home from school when my older brother (former President of the Syracuse Club Golf Team before they joined NCCGA) and his buddy were sitting around the house talking about squeezing in a quick 9 before sunset. They asked me if I wanted to play and after my initial affirmative response I realized that (for whatever reason) I did not have my own lefty clubs in my trunk but only my roommate's brother's righty clubs. At first I told them to go along because I only had righty clubs and I saw no reason to play backhanded; but then I saw some opportunity for a possibly hilarious experience. I told them I'd go with them for some laughs. Long story short, I was not as bad as I would have thought and really enjoyed challenging myself to relearn the game from the foreign side of the ball. This got me thinking...
Since my older brother and I (as you may be able to relate) are about as competitive as they come on the links, we saw a perfect window to have a little contest. Considering he is a righty and I am a lefty, we decided we're going to switch clubs for this upcoming golf season and see who can get their handicap lower from the opposite side . We figured it will be good for a few reasons:
Nothing is more satisfying then being able to say you beat your most competitive rival in a head to head battle.
It'd be awesome to be able to play well from both sides -imagine being able to choose which side you'd rather play from on any given day...
It's probably the closest I'll get to going back in time and being able to redo learning something with knowledge I already have.
I'll be able to relate to many people who didn't start as young as I did
It's a great challenge and it'll be fun, why not?
We're both really excited to give this little experiment a whirl. Both of us are pretty athletic kids with a pretty large desire to beat one another so it will definitely be a challenge to keep up all season. It will undoubtedly be one of the most interesting seasons of golf I have ever taken part in and I'm pumped for it. Let's take a deeper look into it...
WHAT'S IN OUR BAGS: Who has the advantage on an equipment level?
My Lefty Clubs (Jonny will be using):
Woods: Cleveland HiBore (Driver: 10.5° loft), TaylorMade Burner Superlaunch (3 Wood/Rescue:  18° loft)
Irons: Wilson Fat Shaft's: 3-PW (Graphite Shaft)
Wedges: Cleveland 52°, Cleveland 56°, Cleveland 60°
Putter: Odyssey (blade)
Jonny's Righty Clubs - to the best of my memory - (I will be using):
Woods: Cleveland Launcher (Driver: 9.0° loft); Titleist (3 Wood: 14° loft)
Hybrid: Some beat up old hand me down I know nothing about
Irons: Mizuno MX300: 3-PW (Steel Shaft)
Wedges: Mizuno MX300 56°, Cleveland 60°
Putter: Odyssey (blade)
Analysis: I think he's getting a bit of an advantage by getting my clubs. He's getting my DEADLY lineup of Cleveland wedges and my newer model Cleveland HiBore. Even though I am getting a good stick with his Cleveland Launcher, that thing has seen better days. Also, he's getting my graphite shafts which will give him a little more forgiveness as a beginner as opposed the his steel shafts I'm getting from him. My TaylorMade 3 wood is newer and probably in better shape than the Titleist 3 wood he's giving me. In the end I don't think it will provide for a big advantage but I give the small edge to him with respect to the clubs we'll be using.
PREDICTION: I may be a little bit biased but I think I have my brother beat. I already have one 9 hole round under my belt so I  know what to expect, sort of. Also when I was little and just learning the game, it was tough to find a full set of lefty junior clubs so the first one or two times I played I was forced to use my father's righty clubs. That means it's in my blood somewhere and I'm hoping to channel my inner righty. He has a little edge in the equipment department but I don't think its large enough to sway the final results Like I said, it will be close but I think I will have him beat by the end of the season.
Andrew: Lefty handicap last season: 6.9 ; Predicted righty handicap by season's end: 23
Jonny: Righty handicap last season: 7.2 ; Predicted lefty handicap by season's end: 26
It's going to be a long couple months until the snow is all melted and we can kick this adventure off. We both can't wait to tackle the challenge and see how it ends up. Although we can't be sure who will win, one thing is certain - there will be several hosel rockets launched into orbit.
Let me know any predictions, advice, or any similar stories you may have - updates to follow!