Austin Havens is already an accomplished golfer for a college student. The junior played varsity college golf for two years at Millikin University, an NCAA D-3 school in Decatur, Illinois, and earned all-conference honors both seasons. Havens then transferred to Illinois State and attempted to tryout for the varsity team. Despite playing well in the tryout, he didn't have a good feeling about being on the team. It was then that Havens learned about the Illinois State club team, while working with Club President Mason Wicks over the summer at Weibring Golf Club.
"Mason was trying to convince me all summer to play club, and I was not about it because I wanted the Division 1 aspect," Havens said. "But all in all, it turned out to be one of the best decisions I have made here at Illinois State."
Havens won both NCCGA regional tournaments this semester, including a 72-73 performance in tournament #2 to win by 13 strokes. It was a foreshadow of good things to come.
The weather conditions faced at TPC San Antonio for Round 1 humbled even the most skilled golfers. 30+ MPH winds, and a difficult course, saw high scores coming into the clubhouse. Entering Round 2 the leader was at 81, and Havens was tied for 13th with an 85.
"I was 115 yards out on 18 and hit a 6 iron into the breeze and was still short," he said. "That was the first time that has ever happened. You just kind of had to laugh off the first round. It was brutal for everyone."
To show how difficult the weather and course played during Round 1 at TPC, consider that Haven's score of 85 would have put him tied for 186th last season at Bryan Park. Or that 99 players shot below 80 in Round 1 last season, and 0 accomplished that this Fall. Despite the conditions, 103 players were within 10 strokes of the lead entering Sunday's round.
Round 2 started auspiciously, as a 2-hour frost delay forced a change from double-tee to shotgun. The change was made to ensure all players could finish with enough daylight. The temperature started out brisk, but soon gave way to peak playing conditions.
Learn more about the NCCGA's Fall National Championship
Havens double-bogeyed the first hole, before setting in to record 12 pars and 2 birdies on his next 14 holes. The last three holes tightened up an already close race, as Havens went bogey, birdie, bogey to finish the round.
Round 1 leader Matt Barth of Clemson carded a birdie on the 18th, and everyone waited as scores were being tabulated. Unfortunately for Havens, he had a plane to catch a dashed off to the airport shortly after his round. Club President Mason Wicks stayed in case of good news.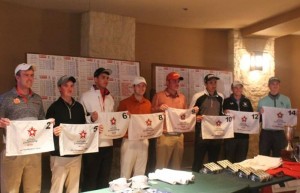 "Mason, our president texted me an emoji of a trophy, and I asked did I win and then he confirmed the news," Havens said. "I was arriving at the airport with my dad and two teammates. I was honestly surprised just because there were many others players who weren't in yet and could have came in with a better score."
Havens emerged with a 1-stroke victory at 158 (85-73), edging out Barth by 1-stroke. Mike Thibodeau (UConn) finished third, followed by Tyler Stahle (Villanova), and Jake Hutchinson (UNC Wilmington).
Havens was awarded the NCCGA Red Jacket for his victory, the Fall 2015 Medalist trophy, and a year's supply of Srixon Golf Balls. He plans to put the clubs down for a few months, but then it'll be back to the grind, and looking to defend his title next semester.
"TPC San Antonio was awesome. I have played some PGA courses and it ranked top 3 for the shape it was in especially for this time of year," Havens said.
Congratulations to Austin Havens on the victory, as well as all 16 members of the All-Tournament team, and the other 247 college golfers that survived the conditions. We can't wait to do it again next year at _______.
**Travis Richardson is the NCCGA Regional Director, working with college golf club teams all across the country. Contact him on Twitter @travis_richson.