TAMARAC, Fla. – Winds were gusting as high as 25 miles per hour as the second NCCGA South Florida Regional tournament began at the Woodlands Golf Club last week. As six teams teed it up, tournament one winner Keiser University was in position to secure a bid to club golf nationals with a victory.
Keiser took care of business, turning in an opening round team score of 390 and securing an eight-shot lead over the team from the University of Central Florida (UCF -A). Florida Atlantic University (FAU) was also in the hunt, just nine shots off the pace.
By day two the winds were gone and Keiser took advantage, shooting 15 shots lower than day one and securing the regions bid to nationals. UCF (A) also shot lower, but was unable to close the gap and finished as tournament runner-up. FAU struggled on day two falling even further back but played well enough to remain in third place.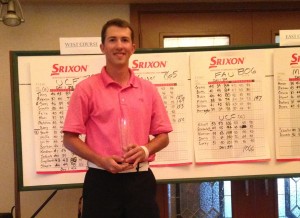 A bright spot for FAU showed up in the individual results, however, as the Owl's own Kyle Kubala carded a three-over par (74-73-147/+3) to claim medalist honors. Keiser's Daniel Pachon Vargas was runner up and UCF (A)'s Daniel Robinson took third.
Keiser and UCF (A) each collected a total of three of the eight individual awards. It was another strong weekend for club golf.
**Bill Morrison is a graduate student at UCF. He serves as the South Florida Regional Coordinator.