Olivia de Fouchier is the President of the Wake Forest Women's College Golf Club team, one of only a few all-women college golf club teams in the NCCGA. The participation of female golfers is rising though with at least two more teams expected in the Spring season.
The Fall season the club finished in fourth at the North Carolina Regional at Cross Creek Country Club, led by de Fouchier's scores of 85-80 (tied for 8th place). The Wake Forest women's club has been competing in the NCCGA since 2012, and I had the chance to talk with de Fouchier on the club's beginning, and how more women can get involved in the NCCGA.
What is your golf experience (junior golf, high school, etc.)?
I have been playing since I was about eight years old. I started out leisurely and then became more competitive around middle school. In France you play with your country club and individually as opposed to with your school. I did both and played in National and Regional Championships individually and by team as a Junior and Ladies player.
How did you hear about the Wake Forest women's college golf club team?
I reached out to the President of the Club Golf team the summer before getting to Wake. I learned about the team through our school's Campus Recreation and Club Sports website. The team was created in 2007 but only started playing competitively in NCCGA tournaments in 2012-2013.
How many people are in the club, and how has it grown and developed since it started?
Right now we have a roster of fourteen girls, eight of which are on our tournament team.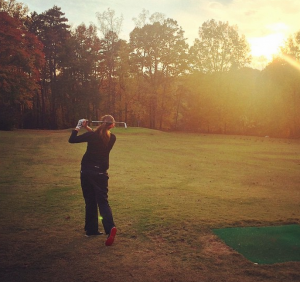 The number of girls on the roster has increased over the years, especially with regards to those who come in with previous experience and to play competitively.
Where does the team practice, does it have a home course?
Actually we just recently created a partnership with Bermuda Run Country Club. They have been generous enough to give us access to their wonderful course and vouch for us as a team, in exchange for our help with a couple of junior programs their organize. This is a huge step for us as we can now practice more frequently and with better facilities; we had been looking for a home course for a while now.
Why do you think there aren't more all-women club teams in the NCCGA?
I think that women who play at a club golf level will either give up playing when getting to college because of the lack of opportunities or will go to D2 or D3 schools to play. The problem is that it becomes a vicious circle where girls don't pursue golf at a collegiate level because they lack the opportunities, and as a result the opportunities aren't created. The women left are then afraid of entering a male dominated playing field and give up on golf entirely.
Start a women's club team at your school
What advice would you tell a student looking to start a women's club team at her school?
I would tell women who are either currently playing on [co-ed] teams or those who have stopped playing that they need to create opportunities for themselves, just like we have at Wake Forest University. It might mean that for a while they have to play against men and not be as competitive, but if enough women take that step we will be able to create our own competitive, all women, playing field. It took us seven years to get to the level we are at now and it's still not on point with the men but we are waiting for other girls to emerge in the region and nationally! It's a long process but it's rewarding and very educative. Playing against the guys is also a building experience!
 **Travis Richardson is a Zone Manager for the NCCGA, working with students to help start college golf club teams in California and the Southeastern United States. Contact Travis on Twitter @travis_richson