You may have seen some action on the NCCGA Twitter account about the Fall 2015 National Championship Team Shop. Clubs that have qualified for the season ending championship at TPC San Antonio have the opportunity to show off why they deserve to represent their region later this month with custom shirts, jackets, golf balls, travel bags, backpacks, and more.
Not only do players have the chance to rep National Championship T-shirts, Oxford Golf jackets, OGIO golf bags or travel bags, and Srixon Z-Star golf balls but players will also have the chance to meet many of our sponsors at TPC on the Friday registration and demo night.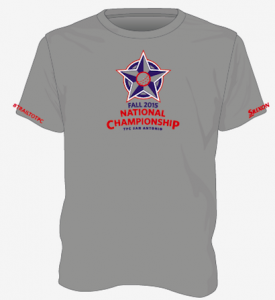 Contests will be held throughout the evening and winners will have the chance to earn custom Cleveland Rotex 2.0 wedges, GolfBuddy laser rangefinders, and New Balance golf shoes.  Players have really enjoyed interacting with the sponsors at the past few Nationals Championship and we'll have representatives from OGIO, GolfBuddy, Srixon and more will be joining us in Texas.
Looking forward to seeing everyone on the #TrailToTPC.  If you want to learn more about the Championship Team shop or the National Championship at TPC San Antonio, contact Matt Weinberger at matt@nccga.org.
**Matt Weinberger is the NCCGA Commissioner, and Director of Team Sales. Reach him on Twitter @BergsUD.