As I'm taking this crazy journey in learning more about this sport, it's becoming clearer - being a woman who golfs means still being an outlier. I went to play a local par 3 course, and Christina and I were the only females out there.
The more I practice, the more I'm learning to trust the process of being a beginner and the more I'm actively looking to lean on the women in golf community. The passion for the sport is high, and the willingness to include and help others is even higher.
Did you know, according to Forbes' State of the Golf Industry 2015, that in 2014, more than 300,000 women joined the golf world, with 180,000 of them being beginners? Along with that, the LPGA-USGA girls golf program grew from 4,500 girls per year in 2009 to over 40,000 girls a year in 2014. Those are numbers that can't, and shouldn't, be ignored by the industry as a whole.
I took a moment to chat with Olivia DeFouchier, the NCCGA Director of Women's Golf, about what it's like to be a woman golfer and the state of golf for women right now. She plays on one of the four all-women's club golf teams, and is a major player in bringing more women to the golf table.
One thing is clear, women golfers are here to stay and play.
Q: When did you figure out that golf was your sport?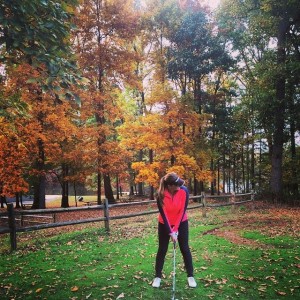 A: I started playing when I was about 7 years old but only got into it when I was 12. I used to play a lot of other sports, but got an injury that prevented me from doing anything that risked collision or contact. That's when I invested my time fully into golf and as soon as I got competitive, both with my team and individually, golf became my sport!
Q: I'm just learning how to golf... real question: is it always this frustrating?
A: Absolutely! Golf never stops being frustrating; it's really a mental sport!
The only thing that changes is the way you respond to the frustration. Part of what makes golf so special is the way in which your psyche is affected, and how it affects your game. It's what make even the best shoot 5-under one day and 10-over the next. You just have to take it in and appreciate it for spicing things up!
Q: You're the Director of Women's Golf at the NCCGA. What does that mean? What are your goals in that position?
A: As Director of Women's Golf I serve as a link between women collegiate golfers and the NCCGA leadership team. I do my best to learn about the challenges women face both on men's teams, as leaders, or as players on all-women teams, in order to implement measures that will make them more comfortable participating in NCCGA events.
I'm also trying to raise awareness among the men collegiate golfers about women's golf and the difficulties of being a minority in such a male dominated industry. My main goals are to increase women participation and help develop more all-women teams. In the long run, I'd love to see the creation of an all-women conference for them to compete against each other.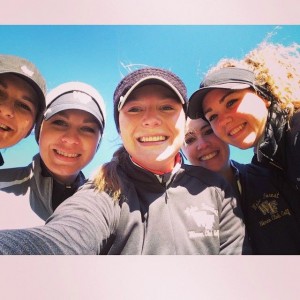 Q: Golf still seems like it's still a very male dominated sport. Do you have any advice for women golfers who want to get out on the course, but may be intimidated?
A: Firstly, my advice would be to just get out there and have fun! If you have a good time with a group of friends, who cares what the men think? Women's golf can only go so far as women are willing to go. My second piece of advice would be to not assume all men are judging you for being out there. Many would be glad to play a round with you, give you advice, or get their butts kicked out on the course by you!
Q: What do you think is next for women's golf as a whole? 
A: I think that right now there's a serious lack of investment in women's golf, whether it's from the media or from the golf industry. It's rare to see women's golf on the television or on the front page of golf magazines and golf stores rarely have more than a tenth of their aisles devoted to women's golf. Even country clubs don't invest enough in women's golf. Ever noticed how damaged the women's tees were in comparison to the men's? Obviously, this has much to do with the income women's golf brings in. That leads to a vicious circle: for women's golf to bring in more revenue, more women have to play, and for this to happen, more money needs to be invested in that side of the industry.
Q. What's your biggest pet peeve to hear, when you tell people that you are a golfer?
A: I'm annoyed by the fact that people automatically assume that I'm a casual golfer, and that they are surprised when they find out that I play competitively. It takes a third party telling them how I play for them to believe that I can actually hit ball and occasionally shoot under 80.
Q: What's one stereotype of women in golf that gets under your skin, and why?
A: The idea that women's can't play and don't stand a chance against guys. It makes women have to prove themselves twice as much as men, and in the event that they do have a bad day out on the course, they're not given a free pass. If men have a bad day, no one thinks twice about going out on the course with them again.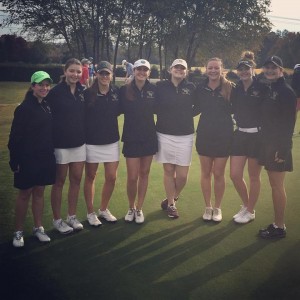 Q: What is something about women in golf that makes you happy to be part of the women in golf community?
I think that women who play golf all face similar challenges so when we meet other women golfers or see them out on the course, there's an automatic acknowledgement and sense of respect for one another. I think we also have less bitter competition against each other because of what I just mentioned.
Q: Anything else you would like to add?
A: I'd just recommend that both women and men collegiate golfers appreciate the game as much as possible while putting aside any preconceived ideas about the other's game! Golf is called a leisure sport for a reason!