If you live in the Northeast, you know that the options for a great buddies golf trip are limited. Don't believe me? Google "buddies golf trip in the Northeast" and see what you can find. I had the opportunity to spend Columbus Day weekend at Turning Stone Resort in Upstate New York, and I thought I would share my experience. 
Before I dive deep into the trip, I want to first define our goals for the weekend:
1) Play golf on fantastic courses with competitive matches
2) Eat great food
3) Relax, laugh, and be entertained
4) Win some money at the casino.
Although all 4 goals were not met on this trip, I think you can figure out pretty easily which goal was more difficult to achieve, the trip was a huge success. 
The Golf 
Having a great buddies golf trip is not possible without fantastic golf courses. At Turning Stone, they have three championship 18 hole golf courses, two nine hole courses, as well as indoor/outdoor practice facilities. Our weekend started off by playing the Atunyote course, which is famous for hosting the 2006 PGA Professional National Championship (will host again in 2016) as well a Notay Begay's charity classic each year that draws names like Tiger Woods, Matt Kuchar and Dustin Johnson. Although this course measures 7315 from the tips, the fairways are generous and greens are fair. The design of this course is a challenge for lower handicaps and more than fair for the less skilled golfer. The greens roll very true as well. Although the course costs $225 for resort guests, it is well worth the money as it is a true treat to play.
As you can expect paying $225, service needs to be top notch. Kelsie, the cart girl,  visited us frequently and the staff was really friendly across the board. Plus, at the turn Jessica served us the best $6 chicken fingers and buttermilk ranch in the world. Although I shot 37 on the front 9 and lost 3 down to a couple sandbaggers with high handicaps, the experience was great nonetheless.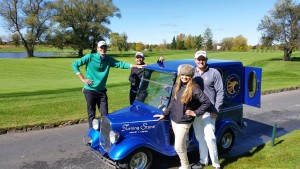 It's hard to top the Atunyote course, but Shenendoah on day 2 of our trip gave it a run for the money. I would say at $95, the Shenendoah course was a better value, given the cost and potential to get in 36 holes at the $50 reply rate. The fairways on this course were similarly generous and greens again rolled true. I really enjoyed the mix of holes at this facility, especially on the back 9. Difficult back to back holes on #13, 420 yard & #14 494 yard par 4s make the course tough, but generous par 5s on #10 and #18 give you a chance to make a couple birdies. The course, service, and amenities made this course the best value of the weekend. If we had more time we were hoping to play the Kaluhyat course, but were told this course was the most difficult of all so decided to hold off on it. Something to look forward to on the next trip!
After 18 at Shenendoah, we went into the club house for a replay of day 1's chicken fingers, fries and buttermilk. We learned on day 2 to get the chef's cut fries with garlic and cheese making this meal even better. We were tired from a late night at the casino (we will get to that more later) so we decided to play our final 9 holes at Pleasant Knolls, an easy and affordable, 9 hole facility. The greens were aerated making playing conditions tough, but playing three 9 holes matches in a 2 man scramble format helped us enjoy the less-than-optimal putting surfaces. At $20, this 9 hole track was a lot of fun for an afternoon, non-serious round. 
The Food 
Although I have been raving about the golf above, the food at Turning Stone is pretty darn good as well. There are a number of dining options for any budget including buffets, quick service fast food, Asian cuisine, Italian far, bbq and Ts steakhouse. Over the 3 nights of our trip, we ate at the Tin Rooster (bbq), Pino (Italian) and Ts Steakhouse. Instead of boring you with all the details, below summarizes the highlights from each restaurant.
Tin Rooster – Lots of food, big beer selection, great ribs, cute girls, affordable, line dancing and band entertainment at night.
Pino – Great service (eat at the back bar with Kirstin), entrees are good (get the chicken or eggplant parm), avoid the salad (really weak), try a special cocktail, don't stay at the bar for 4 hours and rack up a huge bill. Just kidding…Kirstin and her team do a great job and the service was great here.
Ts Steakhouse- Cowboy ribeye, need I say more? Everything about Ts was tremendous besides the dessert. We all got different cuts of steak, each of which was cooked to perfection. The brussel spouts and shrimp/lobster mac and cheese are to die for! Since the steakhouse is on the top floor of the hotel overlooking the country, you almost forget where you are for a few moments. Ts is a standard steakhouse which is reflected in it's high price point for dinner, but worth it if you are looking to have a great meal.
Entertainment and Casino 
Instead of playing 36 holes on Saturday, our group decided to hit up the spa.
Yeah, 4 guys hitting up the spa!
For $10 each you can go to the gym, spend time in the sauna and stream room, take a dip in the pool and relax in the hot tub. Although the experience was good in the spa, resort guests should not need to pay an additional $10 for this "luxury". The gym was small, but had the essentials (we did not work out). The steam room was fantastic, sauna was not working, and hot tub was really hot. The spa experience has potential, but for the money, probably not worth it unless some minor modifications are made.
A great buddies golf trip should include some entertainment. Unfortunately, after long days of golf and hours of dining, we did not spend much time entertaining ourselves at night. We had no interest in going to the club on site, the Rooster line dancing looked fun, but was too late by the time we got there, and the 80s bar inside the casino was left a little to be desired. 
It looks as though Turning Stone has some great shows and entertainment on special nights, but it's not something we took advantage of. The casino was nice, although I'm not a huge fan of smoke. $10/$15 minimums were normal on the blackjack table, the poker room was large, and the  casino had all the games you might be looking to play.  
Winning Money
All 4 of us walked away losers as you would expect. No one lost big, we had fun, and enjoyed a great buddies golf trip with good friends... even though it may have been a tough weekend for my friend Jeff who went 0-7 in his golf matches over the weekend due to some epic putts and battles on the course. 
All in all, we were impressed by Turning Stone Resort and would highly recommend it for a buddies golf trip in the Northeast. Being 4 hours away from Boston, this experience was a reasonable drive well worth the trip.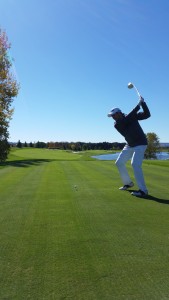 This post was written by Kris Hart, the CEO and Founder of Nextgengolf