Many of us in our 20's and 30's will be hitting the wedding circuit this year and golf is often on the agenda for bachelor and wedding parties. Given that many of my friends are novice golfers, I have been asked what they need to bring on a bachelor party golf trip… and here are my go to suggestions:
1) Travel golf bags – A lot of young adults (including me) do not take enough golf trips, but when the time comes around, you will soon realize a travel golf bag for your clubs is a necessity. Buy a travel golf bag before it's too late for the trip. OGIO is a sponsor of Nextgengolf and makes the best bags in the business. If you are part of the Nextgengolf community, you have access to a discount of over 50% off these bags too.
2) Golf balls – Don't waste the $15/sleeve at the pro-shop when you will most likely be donating them to the water anyway (well hopefully not). Most guys on bachelor party golf trips are beginners and lose a lot of balls. Your best bet is to buy a bunch of used balls online for really cheap or use your relationship with Nextgengolf to get some custom Srixon logo golf balls for everyone in the group for less than $20 per dozen! Get balls.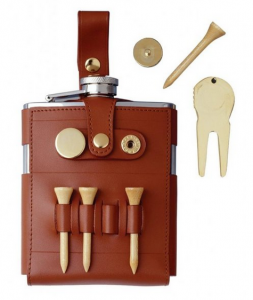 3) Flask – Whether you like to sip on Fireball, Jameson, or tequila, having a flask on the golf course for emergencies during your bachelor party golf trip is clutch. Sporting good stores sell plastic flasks for cheap if you want to toss it after. I also found this flask on Amazon which looks pretty solid and is affordable.
4) Cigar accessories – To save a few bucks on your trip, bringing your own lighter, cutter, and cigar accessories is pretty helpful. I would not suggest bringing your own cigars unless you have a good protective case. If you are really proactive in planning, you should get a couple boxes of cigars online and have them shipped to your destination—a surprise treat for the whole group.
5) Sun Protection – Yeah, I sound like your mother with this one. However, after seeing one of my friends get an insane sunburn on the golf course during a trip, which consequently took him off the course for the next 2 days, I suggest bringing some sunscreen, SPF 30 or 50, a hat or visor, and sunglasses. This is especially the case if you are a pale Swede like me.
Looking for summer golf tournaments?
Hope my advice above helps. As stated, if you are a member of the Nextgen community and need some help getting discounts on golf gear for your next golf trip, you can take advantage of the discounts in the Nextgengolf team shop.
Until next time,
**Kris Hart, CEO of Nextgengolf