When it came time for Nextgengolf—then CollegeGolfPass—and the NCCGA to find an equipment partner, there were plenty of considerations to partner with some of the game's most popular, household brands. When Nextgengolf's COO, Mike Belkin, told me we would be teaming up with Cleveland/Srixon, it was not the first brand atop my mind; but I soon learned why this strategic choice was made and the amazing benefits Cleveland Golf and Srixon now provide the NCCGA.
I thought Mike hadn't gotten out much to notice what golfers our age wanted to play when it came to irons and golf balls. Boy, was I wrong…
I recall playing a practice round during Fall 2013's NCCGA National Championship at Barefoot Resort. Cleveland Golf's Michael Jolly handed me a bare white sleeve of golf balls and said, "Here. Play these today and let me know what you think." Jolly didn't give me any sort of marketing pitch or wise words of wisdom, but of course, I took them…being a college kid and all. And hey, how could I not trust the advice of a guy who helped us get a Srixon corn hole game going  on the first tee at our fall 2013 #RoadtoMyrtle National Championship?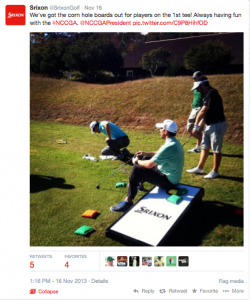 After chipping in for a birdie on the first hole with the new Srixon Z-Star XV, I looked at Jolly and gave a little nod of approval. When the round was over, I gave him my praises and we went on our merry way at week's end. It was not until weeks and five rounds later that I realized I had still been playing with the same sleeve of golf balls I had received at Nationals. Mind…blown!
Why do I tell you this story? It's because I had spent my entire golfing career thinking certain brands and products were superior to all others simply due in fact that the faces of the PGA Tour were playing them. Perhaps I should have done a little more research.
Tiger Woods won his first major at Augusta in the 1997 Master. He played that week with two 588 wedges in his bag. He won by 12 shots.
Vijay Singh won the Masters and the PGA Championship, became the #1 player in the world, and won the FedEx Cup…all after signing with Cleveland Golf in 1999.
You already know the stories of Keegan Bradley and G-MAC...
Until recently, Cleveland Golf/Srixon didn't have flashy commercials or the most endorsed touring professionals in the world. That is all changing with the #JourneyToBetter, Srixon's 2014 signature campaign that challenges all of us not to settle for what's good enough, but strive to be our best.
While many have redirected their products and branding schemes over the years, Cleveland Golf has remained consistent on its ultimate destination: to provide a tour-proven, valuable product at affordable price and now offers an absolute premium golf ball, Srixon.
I encourage you to take the #JourneyToBetter and try out the Srixon this spring. We'll be announcing the benefits shortly of what the low medalist at the #RoadtoJersey will win if playing Srixon.
**Austin (Goose) Dillard is a Senior at Virginia Tech and leading member of the NCCGA where he spearheaded the development of the organizations blog and content strategy. Hit him on twitter @AustinGDillard