For those of you who attended the 2014 Spring National Championship at Crystal Springs Resort in New Jersey, you experienced the first sponsored hole at any NCCGA event.  For each day of the tournament, Cleveland Golf/Srixon, our national golf partner, set up camp at the 4th hole of the Ballyowen course.  They showcased banners that could be seen from across the course, tour bags, wedges, golf gloves, and golf balls.  Prizes were awarded to the player who hit the best shot in each group, sparking excitement amongst the players.
Beyond the sponsored hole, a year supply of Srixon Z-STAR golf balls were given to Mike Kenning of the Wisconsin Club Golf team after firing the best tournament score (150) using a Srixon ball.  Having the Cleveland Golf/Srixon representatives at the National Championship was very meaningful to the players, demonstrating how much they care about the NCCGA and about growing the game of collegiate club golf.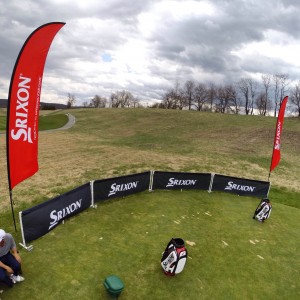 We at Cleveland Golf/Srixon are proud to partner with the NCCGA because we truly care about you, the players, and helping you on your Journey to Better. We are dedicated to improving your game and want to provide all NCCGA members affordable access to top-of-the-line equipment that will allow your game to thrive on the road to the National Championship.
- Cleveland Golf/Srixon
Mason Short, West Virginia University Club Golf President and medalist at the Nationals, was thrilled with Cleveland Golf/Srixon's support, "I really owe Cleveland/Srixon a big thank you for their support of collegiate club golf at the NCCGA National Championship. Without a big sponsor like them, we would not be able to compete on such a big stage. I am really excited to be able to walk around with a hat and a shirt that have NCCGA on one side and Srixon on the other. With the help of a big golf brand like Cleveland/Srixon, collegiate club golf will continue to grow to new heights."