Getting a golf scholarship can be a long and winding road! High school students often reach out to us and ask about golf scholarships so we sought out an expert on the subject and asked some of the tough question about getting a golf scholarship. Kris Hart from Nextgengolf and the NCCGA interviewed Blaine Lynch, the Head Golf Recruiting Coach for NCSA Recruiting for this article. Have more questions? Blaine's contact info can be found below, and is more than willing to help however he can.
What are the top 3 things considered by coaches/colleges for scholarships?
Academics – GPA, test scores and overall academic performance. A strong GPA is crucial.
Athletics – High school tournaments are not the best indicators of success. Coaches want players competing in quality summer events, such as USGA, State Association, and AJGA tournaments. Tournament experience is crucial, and tournament scoring average is the number 1 most important stat. "College coaches do not care what your handicap is".
Character – Scores are not the end all be all, some coaches are willing to take a shot on a great golf swing with potential for success.
How has the scholarship landscape changed in the last 2 years?
The biggest change in the recruiting process is the accessibility the coaches have to student athletes. There are about 150,000 men and 75,000 women competing at the high school level just in the US looking to play in college. Coaches have a lot more opportunities to get in touch with people and there are a lot more recruiting resources available to them than there has been in the past. Another big change is the offer process. Coaches are putting out offers earlier and earlier now. This trend is going to continue when coaches can find top talent early.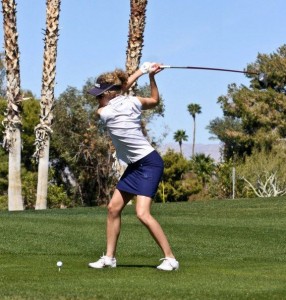 Are there different types of scholarships?
There are both academic and athletic scholarships. It depends on the school how many scholarships are available. There is an opportunity to qualify for academic scholarships for a specific amount above and beyond an athletic scholarships. It really depends on the division of the school for the scholarship opportunities. For example, D3 programs cannot offer any athletic money. D2 schools can only offer 3.6 scholarships on the men's side and 5.4 for the ladies. Scholarship amounts vary for both men and women.
How good do you really have to be to get a scholarship?
It depends on the program. If you are looking to compete at the D1 level and get a scholarship, you will need to show the ability to shoot even par and break even par to get a scholarship. For most programs mid to low 70s is important for a scholarship. As a rule of thumb, you need to be shooting in the 70s.
For women, if you are shooting in the 70s in events, you have a very good chance of getting a scholarship at a D1 school. If you shoot mid 70s to high 80s there is opportunities for scholarships for women.
What is the number 1 misconception people have about golf scholarships?
The biggest misconception is that D3 and NAIA programs are not competitive. D1 and D2 is not an end all be all. For example, the NAIA National Champion shot -16 in the National Championship. You cannot argue about that level of competition. Some people can't get past just being a D1 player. Only the top 1-2% play at the D1 level. If you eliminate the D3 and NAIA programs, you are eliminating 465 programs to play at 50% of your options. Never eliminate a division level until you actually have an offer from a higher level school! Fortunately the NCCGA is another option for many students looking to do to D1 schools. Clubs golf teams at these D1 college are also competitive and can be varsity programs at smaller school.
Which schools have a club golf team?
What is the best piece of advice you could give to a high schooler looking to get a golf scholarship?
Be realistic. Be proactive. You can't wait for coaches to find you. You need to find them and show them who you are.
More About Blaine Lynch, Head Golf Recruiting Coach for NCSA Recruiting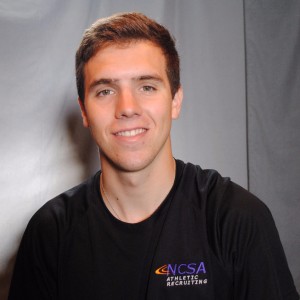 Blaine is from Neenah, WI. He was a 3 sport athlete in high school (basketball, soccer & golf) and recruited to play at multiple programs across the Midwest. Blaine played collegiate golf at Carroll University (DIII school in Waukesha, WI), 3x 1st Team All-Conference, 4x Letter Winner, 2x Team Conference Championships & National Qualifiers. Blaine is an expert on the subject of college golf recruiting and is a resource to over 1800 families annually.
**Need additional help on getting a college golf scholarship? Feel free to contact Blaine directly: blynch@ncsasports.org or visit ncsasports.org.