The start of 2015 brought several new versions of golf balls. The overarching theme in the latest versions focused on one word: soft. Soft means more spin and control, critical for all golfers around the green. The idea was seen in versions released by Titleist, Callaway, Wilson, Bridgestone, and the new Srixon golf balls.
The release of Srixon's 4th Generation Z-Star and Z-Star XV ball utilizes SpinSkin, which is softer and provides more spin. More importantly, it doesn't sacrifice distance because of its energetic gradient growth core and speed dimples. Overall, it's a top choice for club golfers and tour golfers.
Used by several PGA Tour professionals such as Keegan Bradley, Graeme McDowell, Hideki Matsuyama, Michael Putnam, and more, the ball is certainly tour tested. It also comes in yellow for those currently operating in more than a foot of snow!
Srixon and Cleveland Golf are proud supporters of the NCCGA and Nextgengolf, helping provide golfers with the latest clubs, apparel, and golf balls at affordable prices. They provide a strong presence at each regional tournament, as well the NCCGA's National Championship tournament each semester. The students even received a shout-out from Keegan Bradley last Spring before the National Championship.
Good luck to the players on their #JourneyToBetter this weekend. @NCCGA #RoadToJersey

— Keegan Bradley (@Keegan_Bradley) April 26, 2014
This past fall at Dancing Rabbit Golf Club in Philadelphia, Mississippi, Srixon and Cleveland set-up tents so the students could test the newest clubs on the driving range prior to the tournament. Staff members and representatives also made themselves available to answer questions and provide equipment advice.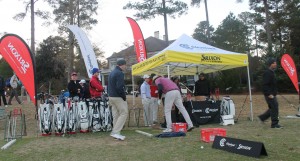 During both rounds of the tournament, Cleveland and Srixon sponsored the 4th hole at Dancing Rabbit; A downhill Par-3, where they provided prizes for closest to the pin in each group, as well as for any hole-in-ones (though there were none this time). Their tent also served as a temporary rain shelter during Day 2's torrential downpour.
The reviews and tests are in, and Srixon's 4th Generation Z-Stars are better than ever. Tour performance matched with the unbelievable support of all NCCGA students on their #journeytobetter.
**If you want to learn more about Cleveland and Srixon products, contact the NCCGA Team Sales Manager Matt Weinberger at matt@nccga.org.