The biggest golfing weekend of the year was made just a little bit bigger with how much was on the line for club golf teams across the country. As Spieth climbed, and dropped, the Masters leaderboard, NCCGA teams were punching their ticket to the Spring 2016 National Championship.
21 tournaments took place this weekend, and 22 bids to the National Championship were to be handed out at the end of the day. Due to the weather, we also had to postpone three regions to finish next weekend (Midwest, Philadelphia, and Atlantic). Each region was looking at several inches of snow as well as frost, making play almost impossible.
We're recapped the entire weekend below. Check out highlights of the action, as well as the updated Spring 2016 season rankings.
Capitol
The University of Maryland club golf team had their work cut out for them in the 2nd Capitol Regional event of the season. They trailed Towson 6-3 in the regional point standings, and to receive a bid to Nationals would need to not only win, but claim the total strokes tiebreaker. The Terrapins fired back-to-back sub-400 rounds to roll the field by 25 strokes. Led by John Brundred's first round 70 (in his NCCGA debut), the Maryland team took the first round lead and never looked back.
Perry Litwin of Georgetown earned medalist honors with a 73-71-144 (+4) performance. The victory means Maryland will be making their first appearance at Nationals since the Fall 2014 season.
Central
The NCCGA Central Region visited Wolf Hollow Golf Club in Labadie, Missouri this past weekend for the second Central Region tournament. Conditions were perfect the first day with clear skies, fast greens, and a relief from the wind gusts of the previous tournament. Saint Louis University's A Team jumped out to a 7-shot lead after the first day with a team score of 385, led by Tanner Rabb (who tied for first in the first regional but lost in a playoff) and Andrew Weisenborn who posted 1-over par 72 and 2-over par 73, respectively.
Following closely behind the leaders was David Lee-Tolley from Washington University, the medalist from the first Central Region tournament, with a 75. The second day brought a change in conditions, with winds picking up and brief periods of heavy rain as a line of storms rolled through. The University of Missouri-Columbia's A Team overcame the 7 shot deficit on the second day led by freshman Dillon Eaton, who fired an even par 71, which earned him second place honors after a first round 79. The victory gave the University of Missouri-Columbia's A team the victory in the Central Region and the automatic bid to Nationals at The Resort at Glade Springs. David Lee-Tolley followed up his first round 75 with a 74 to claim medalist honors over Dillon Eaton and Hank Warren, giving David back-to-back individual titles. - From Central Regional Coordinator Nick Heyrman
Colonial
Playing in nearly blizzard conditions, the Colonial Region went down to the wire. James Madison won the first tournament, followed by Virginia then Virginia Tech. The Hokies were playing close to home, and had a first-round lead, followed by Hampden-Sydney. The HSC Tigers responded by putting up 5 sub-78 scores in the 2nd round to tie Virginia Tech at the end of the tournament.
To determine the regional tournament winner, the 6th man scores were used as a tiebreaker. By the slimmest of margins (1-stroke), Hampden-Sydney earned the win. The result was a regional championship and nationals bid for James Madison University. Brian Burt of HSC took home medalist honors.
Desert
The Golf Academy of America-Chandler led wire-to-wire in the second Desert Regional, firing an impressive 374 team score in the final round to clinch the Desert's bid to the NCCGA National Championship. GAA was led by Dan Bubany and Craig Miller's 147.
Zach Capel of Grand Canyon University took home medalist honors with a 74-68 performance.
Great Lakes
Illinois State returned to its winning ways in the second Great Lakes regional tournament, led by defending National Championship medalist Austin Haven. The Redbirds clinched a bid to Nationals behind five sub-78 scores in the second round to overtake DePaul in the regional point standings.
Gulf
Louisiana Tech outpaced the field in the Gulf Region, and claimed the school's first-ever NCCGA National Championship bid. In it's second season fielding a team, Thomas Bates led the team with a 171 score to earn medalist honors, and the Bulldogs put four players in the Top 5.
Indiana
This week the club golfers of the Indiana Region traveled to the esteemed Kampen Course, designed by Pete Dye, at the Birck Boilermaker Golf Complex at Purdue University. One of the most difficult courses by slope rating in the United States, the Kampen Course has battled with club golfers in the past as the host of the NCCGA National Championship. Nevertheless, Mother Nature reared her head for a second straight week as the first round was cancelled due to snow.
Shortened to 18 holes, the tournament proved a tough test as Kampen beared its teeth amidst pouring rain for most of the round. Only four players broke 80 due to the grueling conditions. An unbelievably impressive 2 under 70 was shot by Indiana's Spencer Gillig to capture medalist honors while Indiana won their second straight regional with a team score of 389. In turn, Indiana University captured their first ever Indiana Regional title on Sunday and have punched their ticket to the NCAA National Championship at Glade Springs this April. - From Regional Coordinator Ed Kreienberg
Metro
The first Metro regional tournament two weeks ago was shortened to 18-holes due to weather, with Fairfield topping the regional standings by four strokes. Weather again played a large role in the second event, but the full field was able to fit in 36-holes at West Point Golf Course. Sacred Heart took the first round lead by 1-stroke over Southern Connecticut, as Fairfield struggled to 3rd. On Day 2, the SCSU Owls did just enough to hold off the field and finish in first, followed by Fairfield. Southern Connecticut State's 11-stroke victory gave them the total stroke differential tiebreaker.
Joseph Santullo of Sacred Heart earned medalist honors with a 70-81 performance.
Mountain
Rookie University of Denver took home the first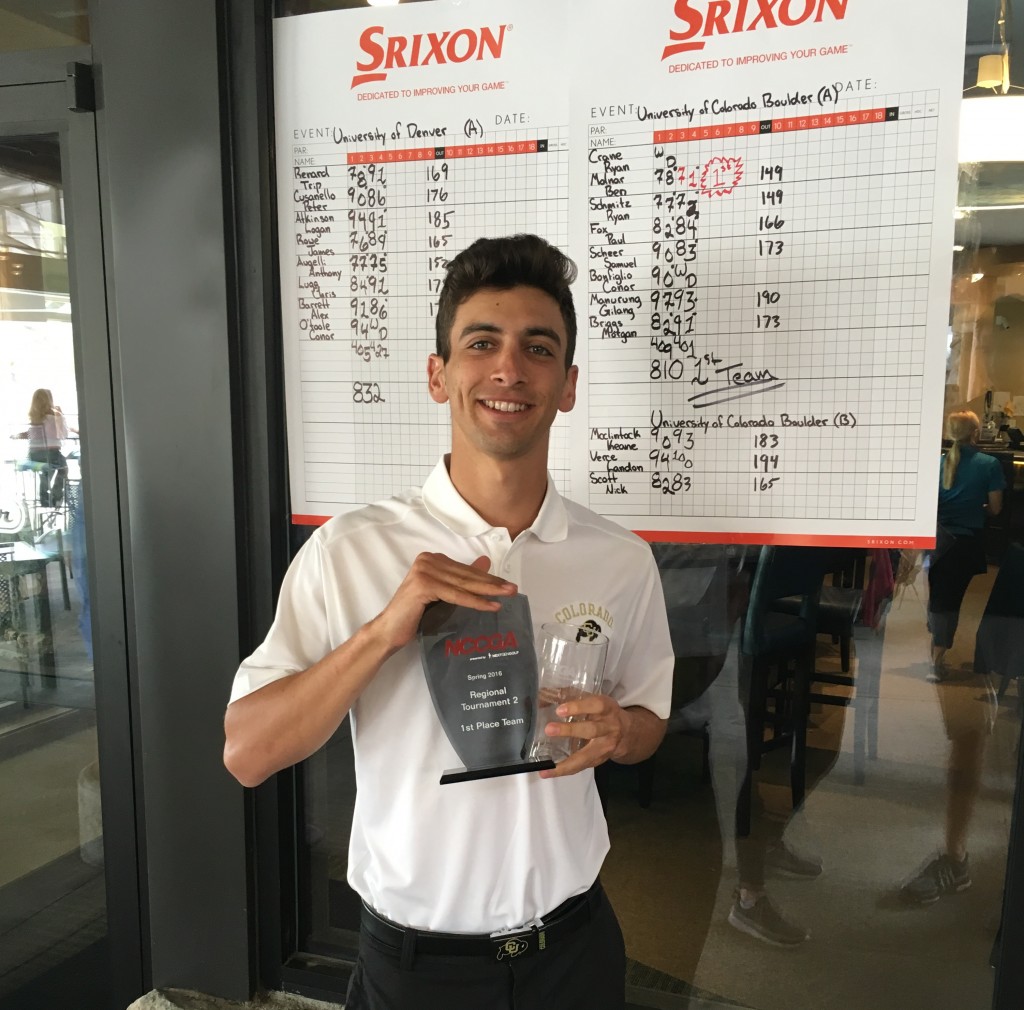 tournament title two weeks ago, and was looking to secure a bid to Nationals in their debut season. Playing at Pelican Lakes in Windsor, Denver got off to a fast start with a first round 405 to lead the field. The Colorado Buffaloes fought back in round 2, with a tournament low 401 team score, led by Ben Molnar and Ryan Schmitz's 149. Fort Collins finished in second, followed by Denver. The third place finish was enough to give Denver the Mountain regional title, and secure their first invitation to Nationals.
New England
After their first tournament was cancelled due to weather, the New England Region had a one tournament, winner take all tournament at Blissful Meadows in Uxbridge. Boston College fired a 396 team score, taking a first round lead over UConn and Bridgewater State. In round 2, the UConn Huskies bested BC with a 385, led by medalist Michael Thibodeau's 75-72. Kim Dinh of MIT placed second, followed by Sasha Lobel of Brown.
Shout-out to Bridgewater State on their fourth place finish in their debut NCCGA season!
North
With the first North Regional Tournament being cancelled due to inclement weather, the teams in the North Region were excited to get out there for the second tournament. This tournament was hosted by Glen Erin Golf Club located in Janesville, WI. Inclement weather was another big factor in this second tournament, as the first day's start time was moved back three hours, and the second round of the tourney was cancelled. The players competed until sundown on Saturday in 30 degree Wisconsin weather. With the second round being cancelled because of poor weather, the awards were given out based on the 18 hole round on Saturday.
The University of Wisconsin Madison (A) Team took home the first place trophy and locked up their spot in Nationals by scoring a 386 (+31). Mitch Strom led the Madison squad and took home the first place medalist trophy with an impressive score of 71, outscoring the next best score by three strokes. Marquette University was the first runner up and took home the second place trophy. - From Regional Coordinator Tom Nachtwey
North Carolina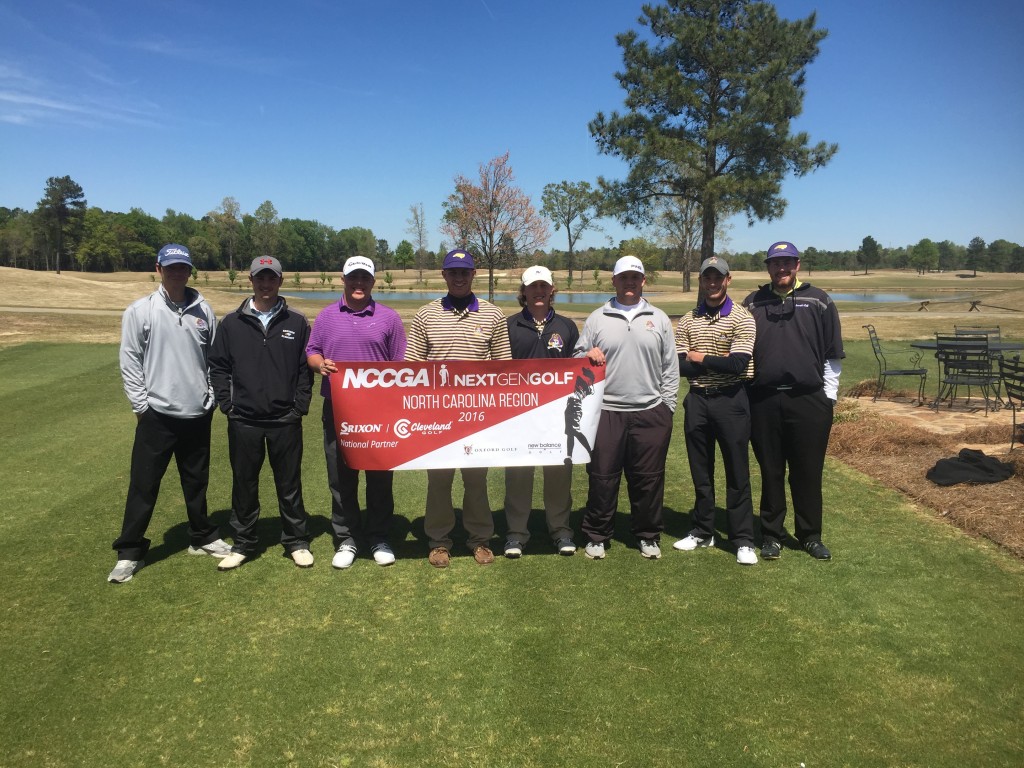 On Saturday the conditions were very tough with a steady wind speed of 20-30 mph with gusts upwards of 45 mph. In the tough conditions after day 1 High Point University had a total of 411, followed closely by UNCW at 412, and Campbell with a total of 417. Ben Gibson led the first round with a great round of 75 (+3). On Sunday conditions were much calmer creating some very low scores. Campbell stormed back and posted a second day total of 378 to win Regional #2 by 7 strokes over High Point. East Carolina took 3rd place with a total score of 807. Ben Gibson posted the low round of the day with a 69 (-3) to post an even par 144 for the tournament, and win medalist honors. With a tie of 7 Regional points, East Carolina Received a bid to Nationals due to stroke differential. - From Regional Coordinator Adam Nivens
North Florida
A champion has been dethroned in the North Florida Region. Golf Academy of America-Orlando fired an impressive tournament team score of +3 to best Florida, the reigning regional champions. Johnathan Milner of GAA put up rounds of 66-71 to earn medalist honors. The Florida B team finished in third, followed by Florida State then Stetson.
The North Florida Region put three teams in the top 7 of the NCCGA rankings, all three receiving nationals invitations.
Northeast
In doubt all weekend due to the weather in New York, the Northeast Region managed to fit in 18-holes on Sunday to determine a regional champion. After finishing in 2nd in the first tournament by a single stroke, SUNY Cortland rebounded with a one stroke victory in the second tournament. Saint Bonaventure finished in second in their debut NCCGA season, followed by Niagara.
Dan Dunnigan of Saint Bonaventure put up a 75 to earn medalist honors.
Northern New England
Adjusting to a last-minute tournament location change due to weather, the Northern New England Region took over Cape Cod to determine a regional winner. The Northeastern Huskies left little doubt, firing impressive 397-399 team scores to claim the tournament victory by 18-strokes. The Huskies will be making their second straight appearance at the NCCGA National Championship.
New Hampshire finished in second, followed by Dartmouth. Ben Holler of Northeastern earned medalist with a 72-77 weekend.
Ohio Valley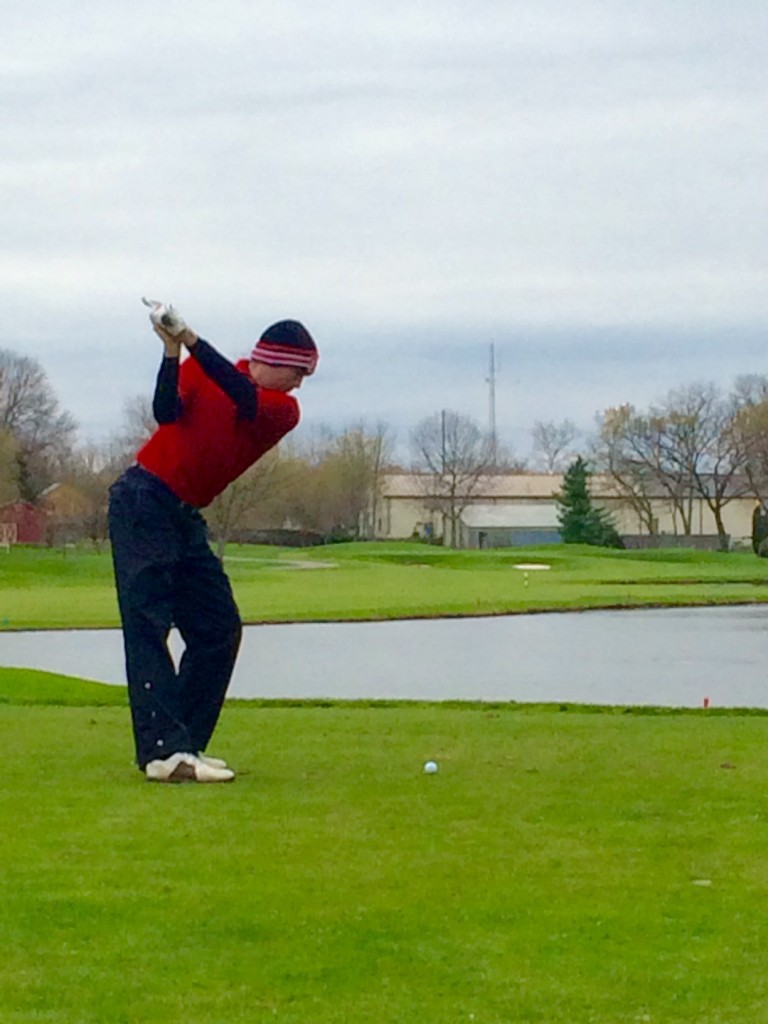 Regional 2 at Heatherwoode Golf Club is in the books, and with that so is the Ohio Valley Region for Spring 2016! Saturday Mother Nature was not so kind to us, with an inch of snow on the ground! So unfortunately we had to minimize the event to 18 holes on Sunday. Sunday, like the last regional, was much more kind to us than Saturday. With tight fairways and slick greens, the course rewarded you for being straight off the tee yet could ruin your round with a few bad shots.
Ohio State again edged out the field with a team score of 400, with Bryan King leading the way, and tying for medalist (losing in a playoff) with a 76. Cincinnati narrowly missed out on 1st with a 401, and Miami right there with them with a score of 402, with Justin Harrington, also tying for medalist and losing in a playoff, leading his team with a 76. Winning the playoff was Jeff Davison from Dayton, with Ky Crist from Ohio also involved in the playoff. Ohio State, winning both regionals and scoring 12 points, qualifies for Nationals at the Resort at Glade Springs in two weeks time. - From Regional Coordinator Eric Buse
South Florida
Six schools were represented at Bent Tree Country Club for the second tournament of the semester in the NCCGA South Florida region over Masters weekend. The 32 man field managed gusting winds around a tight golf course all weekend, all hoping to overtake tournament one winner Keiser for the coveted spot at nationals.
Keiser opened up a 2 shot lead after day over UCF (A), but the Knights were not able to keep pace on Sunday as winds began to howl. Keiser held steady on day two and won the tournament by 25 strokes, led by Sampson Marino and Ben Kassman with two day totals of 154 (+10). UCF (A) finished in second while UCF (B) took home third place.
The individual leaderboard was packed from the start. UCF's Daniel Robinson opened a two shot lead after day one after firing an even par 72, but struggled on Sunday which allowed USF's Tyler Jones and FAU's Kyle Kubala to catch up and force a sudden death playoff for individual medalist with two day totals of 152 (+8). All three players found the trees on their drives, but Robinson recovered beautifully to make a par and take home his first NCCGA medalist award.  UCF (A) and Keiser combined to take home six of the eight spots on the all-tournament team. - From Regional Coordinator Jake Borton
Texas
The Golf Academy of America-Dallas put up a 368 first round team score to take an early lead on Texas-Austin, the defending National Champions. Led by Blaine Butner, the #1 ranked individual in the country, GAA played even with the Longhorns on Day 2 to capture the regional. Carson Stepler earned medalist honors with rounds of 71-71 to finish the tournament 2-under par.
Twin Cities
An upset was in the making from the start in Twin Cities, as Minnesota-Twin Cities raced out to a first round lead over the entire field. Defending regional champions Iowa State found themselves eight strokes behind. Minnesota went even lower in Day 2 to hold off the Cyclones, and notch their first ever regional tournament victory. The Golden Gophers were led by Matt Opsal's 77-74.
Iowa State rebounded to finish in second, and earned the region's nationals bid due to their advantage in total stroke differential. Medalist David Stein led ISU with his 79-71.