Winning your first PGA Tour event is a major stepping-stone in every professional golfer's journey toward greatness. On Sunday at the John Deere Classic, 19-year-old former U Texas star Jordan Spieth drained a two-foot putt for par on the 5th playoff hole, leading him to the winners circle at a younger age than Tiger, Phil, Rory, and Rickie in becoming the youngest player to win a PGA Tour event in 82 years.
Spieth started the day six strokes behind the leaders but never surrendered. After a disappointing bogey on his opening hole, he grinded the rest of the day and turned in his third consecutive 65 of the tournament capped off by a pin rattling chip in birdie from the 18th greenside bunker. After the impressive fairytale finish, Spieth showed the extent of his mental toughness by leaving a three-man playoff that included Master's Champion Zach Johnson with a victory.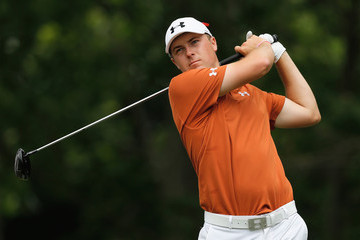 Before his victory, Spieth had already exceeded the public's expectations by locking up his tour card for next year by virtue of five top-ten finishes. But to put in context the gravity of Speith's accomplishment, why not ask Rickie Fowler. Fowler played his way into two sudden death playoffs during his sponsor exemption campaign, yet did not get his first PGA tour victory for another three years.
Perhaps it was the two years of college golf--a chapter for talented young golfers that is increasingly decreasing--which can account for the maturity that Spieth showed. Whatever it was, the victory gives the two-time US Junior champion full PGA Tour member status, meaning that Spieth is done with sponsor exemptions. He is now eligible for all PGA Tour events including the British Open, the PGA Championship, and the Fedex Cup tournaments. Furthermore, all of the Fedex Cup points that had never counted for Spieth are now in play, placing him in 11th place overall in the season long race. Although Spieth was clearly in a state of shock and could only remember to thank the golf gods, he did mention to say that he was "…a little worried about only having short sleeves [and] going to Scotland," which means he is already thinking about the next stage in what looks to be a long and fruitful journey for the 19 year old phenom. Tune in next week to see him tee it up at Muirfield.