I'm the type of guy who is always searching for ways to improve my golf game. After every round I play, I sit down and look at my scorecard figuring out what I need to improve on to shave a few strokes. For example, I'll go to the bar after 18 and go over my scorecard and notice that on 8 I had a double bogey with an OB drive left and on 15 I made bogey after being left in the woods off the tee. Then I think to myself: if I can just get rid off my darn hook, I would have potentially saved 4 strokes!
Next stop: my Golf Digest magazine, golfchannel.com and YouTube. I just never have been a big fan of the driving range. Commuting through Boston traffic for half an hour each way only to hit 100 balls within an hour and a half is not worth the time or the gas money. I prefer sitting on my papasan and watching videos, photos and reading tips. And to be quite honest, it's been going fairly well. And if I so happen to decide it's worth practicing my swing after reviewing a golf lesson on YouTube or TV, I've got my handy dandy Hank Haney weighted swing trainer. I absolutely love this thing. It sits in my living room under the coffee table and is the perfect length to be able to perform full swings without breaking any drywall or TV screens. And for under $10 bucks, can't beat it.
So where should you go if you're seeking golf lessons or advice? Here are my three favorite choices:
On the Television:
The Golf Fix on Golf Channel (Mondays @7PM): Michael Breed is awesome. His personality is fun and casual and you really can't get bored watching him putt or swinging on the simulator inside the Golf Channel HQ. He occasionally has pros visit him too and long drive champs like Jamie Sandlowski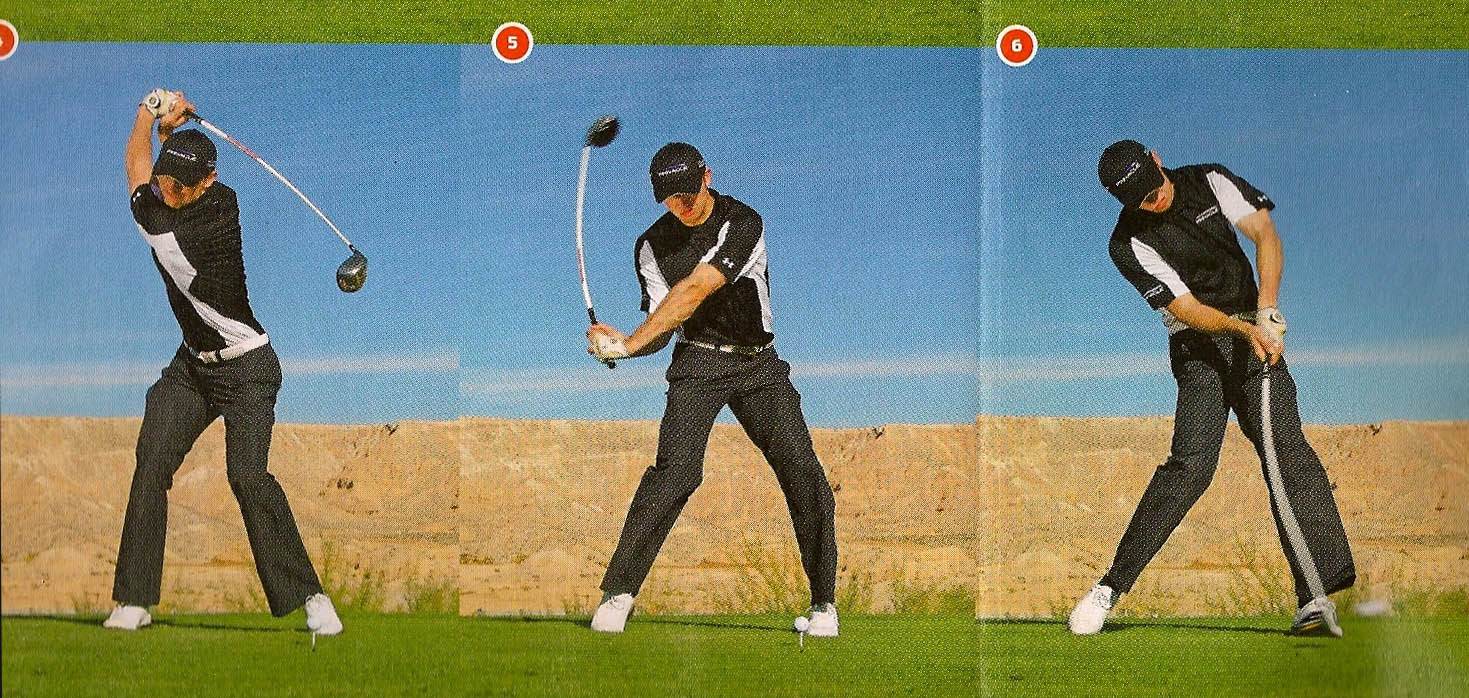 What really makes him stand out from other instructional shows is his interactiveness via Twitter and Facebook. Send him a quick tweet or message on something that you need to improve and there's a chance you may become a star on Golf Channel (You'll just have to swallow your pride if it's something you find embarrassing that you need to fix).
If you don't have time on Mondays to catch him or don't have the Golf Channel, fear not, his episodes are FREE on Golfchannel.com
Golf Digest
Golf Digest tip of the day: @golfdigestmag OR do what I do and get the e-mail tip of the day
Further, Golf Digest is very inexpensive to subscribe to: The offer now is $12 for one year subscription and that includes a golf gear bag and 3 instructional Basics apps. These magazines are loaded with tips and always have a certain Pro's swing analyzed with photos from every angle. What's even cooler is that you can subscribe both to the print issue as well as the digital issue for those of you with your fancy iPads and Kindles.
YouTube
I find swing analyses of the pros to be very useful. There's actually one user I find worthwhile of subscribing to: iseekgolf.
I've always been a visual learner and when I see a golf swing I like, I do my best to copy just that swing (That means you, Adam Scott). YouTube has an abundance of golf swings to look at: Anywhere from Tiger's signature stinger to Charles Barkley's 3-piece swing.