Written By: Kris Hart | @collegegolfguy
Millennials consumers are always looking for great value. With the internet at our fingertips, consumers are in control given they can find out any information about different golf facilities. Although there is a ton of information out there (including Nextgengolf), it's often difficult to understand if the golf course website properly reflects the facility in person. Is saving $10 really worth it if the quality facility is poor? No matter what golf course you are going to, the below tips should help you while making your decision on where to golf. I hope you enjoy my tips on how to golf for less.
1) Play during Off-Peak Times
The golf industry has started to follow other industries such as sports ticketing with a dynamic pricing model. This means if you want to play at prime time, you are going to pay much more than playing at an off-peak hour. Using a Boston sports reference, if I want to see the Bruins play the Canadians (big rivalry) the ticket may cost $200 versus going to the Bruins and Oilers (last place in NHL as of 2.13.16) which would only cost $100 for the same ticket. If you are wondering how to play golf for less, seek out the off-peak times at golf course. I've found courses typically offer deals during the early morning, mid-day (noontime) or after 4pm. If you have the luxury to play during the week versus a weekend, most courses are slow on Mondays and Tuesdays. Every course is different, but playing during off-peak times will definitely save you money.
2) Get a membership
Getting a membership is certainly a commitment! Both pubic and private courses are seeking younger members and offering very reasonable membership prices. Their goal is to "get you on the juice" in hopes of you staying a member for years to come. Pricing of memberships is variable. Here is an example of a golf course on Cape Cod called Bayberry Hills offering a young adult membership for $470 to anyone under 35 years old. It costs $76.50 to play one round during the weekend. I could break even on my membership investment if I play more than 6 rounds during the year! Not a bad deal.
3) Sign-up email offers
One of the simplest ways you can golf for less is to sign-up for golf course deals via email. Most courses have the option to sign-up for their email database directly on their website. Golf courses are continuing to get better at marketing and provide incentives for their best customers via email. Sign up and start saving.
4) Engage with golf courses on social media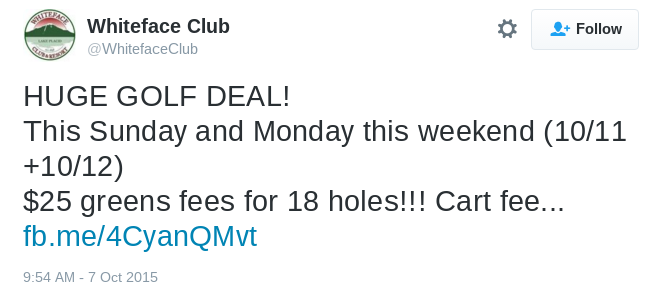 Yes, I know what you are thinking. Golf courses have some of the worst social media accounts you have ever seen. The good news is that many golf courses are starting social media accounts and using them to engage with their customers. See the deal offered from Whiteface Club below. Start following your local golf courses on Twitter!
5) Search for deals
There are numerous third parties that book online tee times, sell multi-play coupon books and offer one time deals like Groupon to help you save on greens fees. These services are better in some markets versus others based on supply and demand, but if you spend time searching for tee time deals in your local market, you will most likely find some good deals from GolfNow, Teeoff.com or local coupon providers like the Golden Passport offered by the New England Golf Course Owners Association.
I hope the above advice will help you golf for less. Do you have any additional tips that could help millennial golfers?