If you're like me, you're always looking for new golf apparel. I've gone through countless hat, polo, and jacket brands. There seems to always be one thing about a shirt that I don't like. Whether it is too many buttons, a collar that crinkles (everyone hates that), or a shirt that just won't stay tucked in, I have found that the perfect shirt has been nearly impossible to find.
Nextgengolf partnered with Oxford Golf for the first time this year. We have been through several apparel partners through the years, and I was excited to give Oxford a try. I was amazed when I received my custom Rutland Polo just how nice it was. I had a golf trip with my buddies that weekend, and literally had several of them ask if they could buy one. They're that nice.
Want cash? Refer a friend
Oxford Golf has dressed out City Tour leaders as well as our NCCGA Regional Coordinators this year. Players and teams also have access to special offers for Nextgengolf members. I have been super stoked about Oxford's custom shirts, which are definitely bringing style to the course.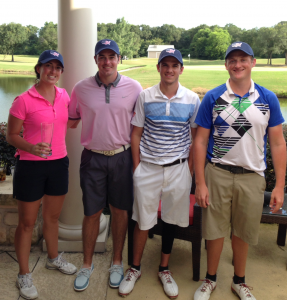 Off the course, State Traditions has been a great way Nextgengolf members have been showing off their style. At City Tour events this summer and NCCGA events this fall, players are receiving custom Koozies. In addition, winners of our City Tour events are receiving American flag State Traditions hats to celebrate the inaugural summer of the City Tour.
State Traditions has been revered especially down south as one of the best lifestyle brands. People are able to display their state pride on and off the course. As Tyler Hogan the Atlanta City Leader put it, "Rest assured, State Traditions will have you covered. Whether for game day or out on the golf course, State Traditions delivers with its numerous unique designs."
So if you're looking to up your style on and off the course this year, check out Oxford and State Traditions. If you want to learn more, contact Matt Weinberger at matt@nextgengolf.org.
**Matt Weinberger is the City Tour Director and NCCGA Commissioner, reach him on Twitter @bergsUD.