It's 5:00 a.m. PST as I sleeplessly wait to board my plane back home. Where I come from, back in the mountains of southwest Virginia, it's eight o'clock. Matt Harman—the Radford former college golfer I caddied for in this week's eGolf Tour ArrowCreek Open—and I have spent the last five days in the "Biggest Little City in the World," Reno, Nevada. We couldn't be any more excited to get the heck out of this god-forbidden place.
I haven't shaved all week, and for the first time in a long time, I am actually looking forward to getting trimmed up. Ironically enough, the only thing that doesn't pass security check: my shaving cream. Seriously, Reno? That is pretty much the epitome of how the week has gone. Man, the things we do for this beloved game of golf.
The week started off great. All connecting flights departed on time and arrived early. We made our way to the El Dorado Casino and Hotel where we would be staying for the week. There was great food, craps tables, and pretty women; life was good. We made our way to the gorgeous ArrowCreek Country Club, one of the best courses in Reno golf courses for Monday's practice round. The big guy birdies the first hole en route to a solid round and we even made a little money at the Roulette table that night. "It's going to be a good week," I thought to myself. Little did we know, we were making the settle climb to the peak of the "Biggest Little Roller Coaster in the World."
Tuesday, July 1, 2014 (cue dramatic Law and Order sound bite): Things didn't start too good. We were set to tee off an hour before the start of the U.S.-Belgium World Cup game. We weren't overly excited about our appointed afternoon wave, that's for sure. After cruising along at 1-under through 11 holes, Belgium struck with its goals in extra time. That is where the roller coast began heading south.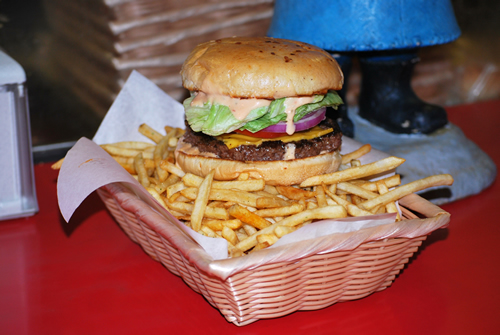 Double-double-triple bogey. Not even Timmy Howard could save us from the downward spiral we were headed towards. Harman went on to post a first round 78. We both managed to lose our fare share of money in the casino later that night, as well. The only highlight of the day: eating Qdoba for lunch and having an "Awful-Awful Burger" from the Little Nugget for dinner—don't tell me paying $8 for a one-pound burger and a pound of fries isn't a steal!
Wednesday, July, 2, 2014: Wednesday wasn't much better. Put your boy down for a snowman on the opening hole and you can pretty much slash your chances of making the cut. We knew we wouldn't playing in Thursday's final round. Following the round, we were broke, deflated and ready to get the hell out of Reno. We called U.S. Airways looking to see if there was a way to move our flight up in hopes to keep from having to travel all day on America's 238 birthday. I was told that, for $200 a person, we could make the flight change to that evening. Matt happened to have $200 in casino chips. We made the educated decision to test our fate. "200 on black, please," we said. Thirty seconds later and $200 richer, we cashed out and we were off to the airport. Things were going good, or so we thought. We get to the airport to find out that an additional $150 charge per person would be added for fare change. It would have been nice to have been told this an hour ago. Sure enough we ditched that idea and made our way back to the hotel. Good thing we didn't cancel our reservation for Thursday night, right? Wrong. Fortunately, the folks at the casino were gracious enough to help us out. Thursday was going to be a blast, for sure…
Thursday, July 3, 2014: This day sucked. If you call sleeping all day, eating lunch, laying around, watching TV, eating dinner, and leaving for the airport at midnight a good time, then by golly, we had a blast!
So here we are. We haven't slept in 22 hours, a #getmeoutofReno has been thrown out on the Twitter platform, and three different flights lie ahead of us. Back to the hills of SW Virginia where the mountains have trees, the tea is sweet and the grass grows thick as the southern drawl.
Okay, so why am I sharing this story with you? There are a few reasons: first, if you get the chance to make your way out to Reno, Nevada, hard-pass on that. Second, I need a way to pass the time while I am bored out of my skull waiting to board this plane. Last—but not least—I wanted to share a lesson that can be taken from this trip. Whether it is on the golf course or in the casino, we aren't always the luckiest of players. But what I can say is that we are fortunate. We are fortunate to have the opportunity to play this great game and share it with great friends and family. I was fortunate to make the trip to Reno with a good buddy of mine. Most importantly, we are fortunate enough to live in such a great country in which we have such great opportunities.