With a miniature American flag placed on his bag of clubs, Francis made his way around the hallowed fairways of the Country Club like the general of an army. From the outset of the 18-hole playoff at the 1913 U.S. Open, there was no question that Boston's boy would take home the title. Francis maintained his trademark calm attitude during the heaviest pressure en route to a phenomenal 72 leaving him five strokes ahead of Vardon (77) and Ray (78).
Francis's underdog victory is not only the greatest golf story, but arguably the most improbable sports fairy tale we've ever seen. Francis -- a blue collar boy playing a white man's game -- a young America amateur against experienced European professionals --maintained his focus with distractions from his home only a stones throw away from the 17th green.  Although Francis' father vehemently opposed Francis' playing in the U.S. Open, even Arthur couldn't keep the tears from flowing on TCC's 18th green as it became apparent that the title would go to Ouimet.
America's First Golfing Hero, Part 4
Ouimet's Win Grows Golf
Francis' victory was much more than a moral booster for the local Boston community; the win jumpstarted a national interest in the game of golf at a time when public courses didn't exist. In fact, over the next decade, the number of American golf courses doubled and courses increased from 350,000 in 1913 to over 2,000,000. Working class Americans enjoyed seeing a young man that they could relate to actually play the game that they were once "not good enough" for.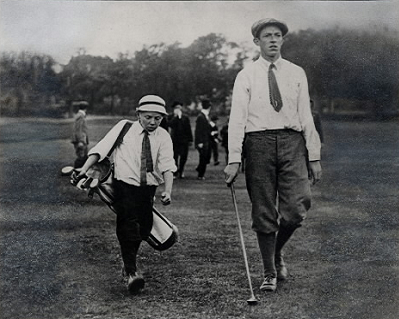 Although Francis didn't end up having a successful career as a professional golfer, he nonetheless remained a highly competitive amateur for decades to come. In addition to playing role model for future golfing legends such as Bobby Jones and Gene Sarazen, Francis also became the first American ever to be elected as the Captain of the Royal and Ancient Golf Club of St. Andrews. Francis also experienced remarkable successes in the Walker Cup where he captained four times and is more victories than any other American player.
The name Francis Ouimet typically doesn't get lumped into discussions with Arnold Palmer and Tiger Woods as the titans who have made golf into sport with 25 million American participants; but perhaps he should. When one looks at the impact of 1913 U.S. Open and generations of golfers that were inspired by his performance, it's hard to downplay the significance of Francis Ouimet in sparking an interest in golf in the early parts of the twentieth century.
As a person who has grown up with golf and caddying in my blood, I thank Francis for his contribution to golf and will never forget the Greatest Game Ever Played.
**Many of the facts derived in this multi-part series stem from Mark Frost's "Greatest Game Ever Played"

**Mike Belkin is a Co-Founder of Nextgengolf.  Contact Mike on Twitter @MikeBelkin11