Last spring, Uconn was the biggest school in New England that didn't have an active competing team in the NCCGA. We worked with students to help start a club team this fall and even hosted the first ever Southern New England Regional at Windham Golf Club, UCONN's home course. Serving as Vice President of UCONN's club team and delivering some of the finest college golf in the country this fall was Mike Thibodeau, a mechanical engineer who will be making the #RoadToJersey as an individual.
Did you intend on playing varsity college golf?
I played 4 years of high school varsity golf at Ellington High School in CT. I didn't start playing seriously competitive golf until my senior year though. I wasn't that into it early on but my game really flourished when I started playing Connecticut PGA Junior tournaments. I actually ended up winning player of the year my senior year. I was thinking about where I should go to play and I always knew the UCONN varsity coach so I came to UCONN to try to play varsity college golf and also do engineering.
Once I got to campus the coach and I decided that it seemed like making the full commitment to both academics and varsity golf would be a tough challenge. My mechanical engineering major is a serious commitment and I don't think my grades would have been able to hold up if I were putting in the time necessary to get my game in top form to compete at the Division 1 level.
How did you hear about the club golf team?
One of my friends, an alumnus actually, who I played with in high school told me he heard about the effort to get the team started on twitter. Before I knew it a student named Shane Baldwin -- now the president of the club -- created the then got a direct message from the club team's twitter account. Shane got in touch with me via the twitter account and I told him that I wanted to see what it was about.
Did you expect to make it to the National Championship?
I didn't even know that individuals could qualify for the national championship until recently. That said, I'm thrilled to represent UCONN this fall and look forward to helping get my entire team to nationals next semester.
What is the NCCGA National Championship?
Is Uconn Club Golf "Official" Yet?
Although we were able to compete, we are not yet a Registered Student Organization so this semester we paid out of pocket. We aren't far away from getting there there are just a lot of steps like naming an advisor or professor that works at UCONN. We also need to finish the UCONN club sports workshops and then we'll be unfrozen as an officially funded club team.
Will Uconn have two Club Golf Teams by the spring?
We'll definitely have two teams in the spring. There were a lot of kids that came and tried out that emailed us with an interest in the team. But paying out of pocket it made it tough to have two teams getting started.
How was pace of play?
Pace of play was excellent and I loved the #ReadyGolf campaign. Average pace of play was about 4.15 hours tops. The last round at Stanley we finished in fewer than four hours.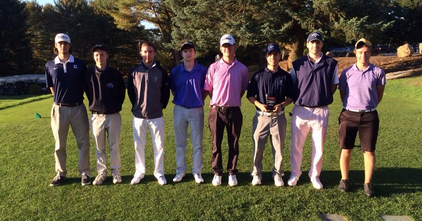 Final thoughts on Club Golf?
Club golf is more laid back, doesn't take as much time as varsity college golf, but still allows me to remain competitive. It's also great socially. A lot of the guys on the club team I knew from playing high school golf in the state of CT. We see a lot of them on campus and are pretty good friends now. All in all, I couldn't be happier with the club golf experience and am excited for what's in store for Nationals.
**Interview performed by Mike Belkin