While everyone is crying out "It's Tiger's time!" or "Let's go Phil!", I am singing a different tune as the Masters approaches. Everyone loves a great underdog story (if you don't agree then go watch The Greatest Game Ever Played... it'll change your world). College golf players that make their way into the Masters and play alongside legendary professionals, especially those still in college, are the epitome of underdogs.
Phenoms showing what they are made of at Augusta make for what I see as one of the most exciting things to watch in sports. With the first round commencing tomorrow morning, it seemed fitting to take a look back at some of the most memorable finishes by collegiate amateurs at the Masters.
Here are my "Top 5: Most Memorable Collegiate Appearances at the Masters":
1) Ryan Moore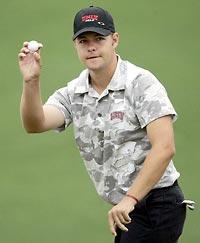 All eyes were on Ryan Moore, who played college golf at UNLV, during the 2005 Masters as the "next big thing since Tiger" was in contention for the first win by an amateur in Masters history. While Moore didn't end up finishing the job, he did claim the Silver Cup for being the low amateur. What made Moore's appearance so memorable was not just his performance in the tournament, but the anticipation prior to the event; Moore won the NCAA Championship, U.S. Amateur Public Links, Western Amateur and U.S. Amateur, and helped the U.S. win the World Amateur Team Championship while earning low individual honors.
2) Matt Kuchar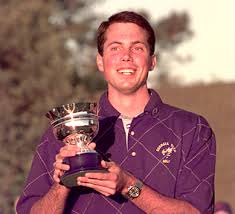 When I think of Matt Kuchar I think of two things: "Koooooooch!", and his seemingly everlasting smile on and off the course. Shifting back to 1998, the Kooch that we know and love was making a name for himself with not only his charisma but also his stellar performance. Carding a 68 in his third round, heads started to turn as Georgia Tech's soon to be professional was on the scoreboard right next to legends like Jack Nicklaus, Tiger Woods, and Phil Mickelson. Kuchar's collegiate and late amateur success allowed him to turn pro in 2000.
3) Tiger Woods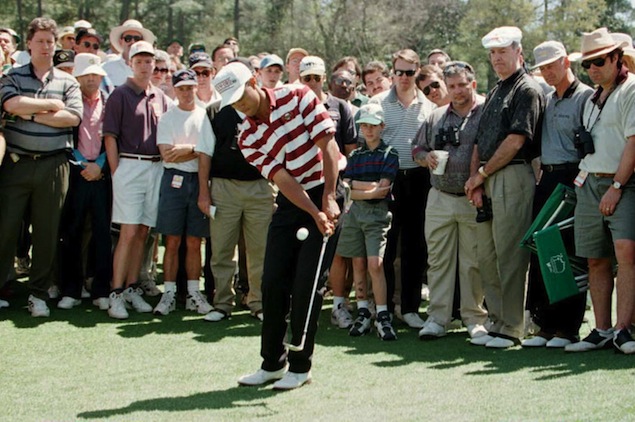 No introduction necessary. Woods qualified for his first PGA Tour major, the 1995 Masters, while playing for Stanford in which he tied for 41st and earned the low-am Silver Cup trophy. Woods' name was circulating through the golf world as he already claimed two US Amateur titles and went onto win a third in 1996. In retrospect, this was a crucial point in Woods' career and kick started his legendary status on the PGA Tour.
4) Patrick Cantlay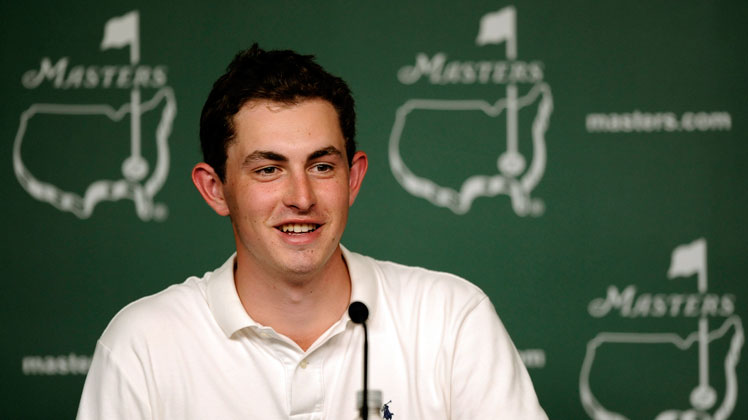 More recently, "top amateur golfers" and UCLA's college golf superstar Patrick Cantlay were almost always found in the same sentence (before he turned pro in late 2012). Best known for his 55 consecutive weeks as the #1 ranked amateur golfer, Cantlay strutted down Augusta with confidence last year in the 2012 Masters, finishing t47 and claiming the Silver Cup as low amateur. You may also remember his impressive performance at the 2011 US Open where he tied for 21st. Following his various tour appearances as an amateur, Cantlay has since turned pro and already has a victory on the Webb.com tour. I know my generation will always remember Cantlay's name.
5) Luke List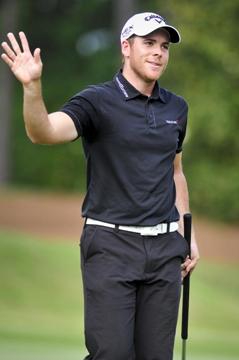 A not so well known name on the list, Luke List stirred some excitement during the 2005 Masters when he carded an ace during the par 3 contest on Wednesday. Finishing t33 behind Ryan Moore as an amateur, List made it known that he was a force to be reckoned with. List turned pro right after his graduation from Vanderbilt in 2007.
So who will make this year's headlines? Of the 5 amateurs competing, Steven Fox of University of Tennessee at Chattanooga is the favorite according to online bookmaker Bovada. Will Fox live up his reputation? Or will 14- year old Guan Tianlang, the youngest Masters contestant in the tournament's history, have something to say about it?
Need help starting your own collegiate golf team?
Leave a comment and let us know who you think will claim this year's Silver Cup!
**Connect with the NCCGA on Twitter @NCCGA