Whether you are a Club Golf President looking for new members, or a student looking to build a club team from scratch, recruiting can be a challenge. Having started over 200 teams, NCCGA has uncovered proven strategies to find golfers on your campus.
Fall Club Sports Fair
Each fall a new group of freshmen descend on campus, eagerly looking for new opportunities to get involved. Schools typically assist in this process by holding a "Fall Fair" (though it might be known by a different name at your school), an event where new students can see all the different clubs and student organizations on campus. This is a great opportunity to spread the word and find new students that want to play golf. Samuel Jones, Club President at Virginia Tech, says that his team gets a booth at "Gobbler Fest", their opening extracurricular festival. We suggested reserving a table, bringing your golf clubs, and putting out a sign-up sheet to collect emails to add to the Nextgen Portal. Bringing in a group of freshman can help keep the club strong for many years.
Golf Social Media
The NCCGA has an active Twitter account, as does each NCCGA Region. Further, nearly all of club teams maintain an active Twitter account, using it to post tournament pictures, course suggestions, interact with other teams across the country, and spread the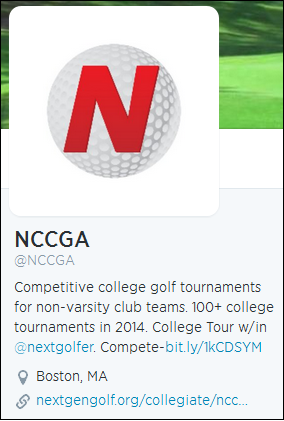 word about golf on campus. The University of Wisconsin's Twitter account, for example, has over 200 followers that follow their golf news, accomplishments of their club members, and some lighthearted trash talk in the North Region.
One of the best ways to spread the word about a club golf team on campus is to create a club Twitter account. It's free to do, and takes only a minute. Put your team's logo as the profile picture, and begin tweeting at the various organizations on campus, letting them know that a club team is starting. Many students simply do not know about club sports, and social media can be an effective tool to spread the message. For a great example of this strategy in action by a brand new team this summer, see what University of Louisville is communicating.
Get rewarded for growing the NCCGA: Refer a friend
Golf Team Website
A website is a great tool to recruit students to a club golf team on campus. There is no need to go out and purchase your own domain name, however, since all NCCGA teams receive a free team page (check out University of Florida's team page).
Golf for Fraternities
If your school has fraternities and sororities on campus, ask if they have students that play golf. Need proof that contacting fraternities can be an effective way to find  golfers? Nearly 25% of NCCGA competitors are fraternity members. Club golf is much less rigorous than varsity golf, as all NCCGA golf tournaments take place on weekends, and require much less time. Students do not need to miss school, nor do they need to practice daily. Your school's website should list the fraternities and sororities on campus, send an e-mail to the Chapter President and let them know you are starting a club team. Are you in a fraternity? Even better, spread the word to your brothers and see how many people are interested.
Local Golf Courses
Where do students go when they want to play golf recreationally? The golf course! It might be the most overlooked strategy, but local golf courses can lead to finding an abundance of student golfers. If there is a course on campus, or even near campus, the Head Pro probably knows the amount of student play they receive. Ask if you can hang a flyer at the course, or see if they can recommend any students that would be interested in the opportunity. Find the courses near your school using Nextgengolf's Find Course tool.
Club Sports Department
The club sports and recreation departments on campus are a great source of help in finding club golfers. If the school hosts intramural golf tournaments, or charity golf events, ask if you can distribute flyers, or send a blast e-mail to the participating students. Hang flyers on the recreation center bulletin board and see if they will send out a tweet or Facebook post. Samuel Jones of Virginia Tech explains:
"Most of our new interest comes during orientation where incoming freshman and transfers tour through the rec sports department. In there our team keeps an always up-to-date display case with trophies, pictures, contact info, etc. That has seemed to work very well for us." 
Friends
This might seem like common sense, but many times simply asking your friends and classmates if they play golf can lead to finding new players. If your friend does not play golf, maybe one of their friends does. Do not be afraid to reach out and spread the word, you would be surprised at how effective it can be.
Need help fundraising for your club team on campus? Check out Tom Thrift's blog article on "7 College Fundraising Tips For Your Club Golf Team".
 **Travis Richardson is a Zone Manager for the NCCGA, working with students to help start club golf teams in California and the Southeastern United States. Contact Travis on Twitter @travis_richson