The NCCGA and Hurricane Collegiate Golf Tour (HCGT) are on a combined mission to help more college students play competitive golf.  Many Hurricane players have tried their hand in NCCGA tournaments this spring, and we are hoping that NCCGA players are able to keep their games sharp by competing in first-class events hosted by HCGT this summer. The 2014 summer schedule features 28 events spanning 11 different states. All HCGT tournaments are 1-Day, 36-Holes, with lunch and cart provided, perfect for golfers looking to play this summer.
The HCGT is open to all college-aged golfers (18-23), both male and female. This includes current college golfers, club golfers, future college golfers, and golfers looking for competitive tournaments. Membership to the Hurricane Collegiate Golf Tour is FREE, and allows access to all events this summer. Each tournament costs $179, and with 28 events in 11 states, there are opportunities for everyone to participate.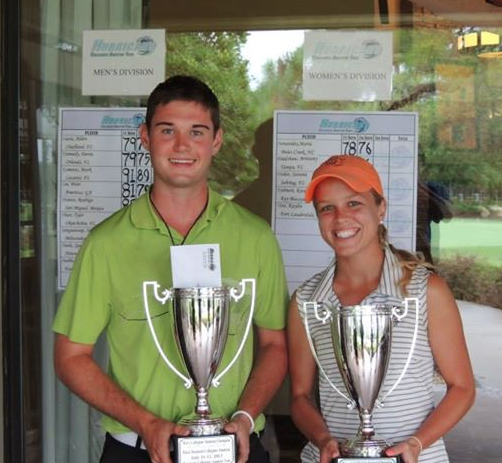 Golfers will compete for gift certificates to the Hurricane Tour Shop, which sells the latest golf products and apparel at discount prices, including Adidas, Nike, TaylorMade, Puma, and more. HCGT members will also compete all season for the chance to receive an exemption to the prestigious 2014 Dixie Amateur in Coral Springs, Florida.
The tour will visit many elite golf courses, including Falcon's Fire Golf Club in Kissimmee, Florida, Birdsfoot Golf Club in Freeport, Pennsylvania, Shingle Creek Golf Club in Orlando, Florida, Heron Bay Golf Club in Coral Springs, Florida, and Wyncote Golf Club in Oxford, Pennsylvania. With events scheduled in 11 different states (Florida, Georgia, Alabama, South Carolina, North Carolina, Tennessee, Virginia, Ohio, Pennsylvania, Kentucky, and New Jersey) the Hurricane Collegiate Golf Tour will offer players the opportunity to test their skills across state lines.
The 2014 HCGT season kicks off on May 29th at Fowlers Mill Golf Course in Chesterland, Ohio, and at Hunter's Green Country Club in Tampa, Florida.
To view the full 2014 schedule, tour details, and more, visit HCGT at http://collegiate.hurricanetour.com. You can register online, over the phone at 904-379-2697, or via e-mail college@hurricanetour.com. We encourage you to experience 'The Hurricane Difference' this summer!