The Northeast region of the NCCGA opened the Spring 2013 college golf club semester at Birdsfoot Golf Club this past weekend, in Freeport, Pennsylvania. Having to endure cold temperatures and wet course conditions, the college golf club players were dealt a tough hand as the rolling hills of Birdsfoot left minimal opportunities to score.
Playing at the lengthy 6,703 yard setup, a slope of 134 and a rating of 72, Birdsfoot hosted the following seven college golf club teams: University of Delaware, Duquesne University, Robert Morris, Penn State, University of Pittsburgh, and SUNY Buffalo. This was the first college golf club regional tournament since the region known formerly as the Northeast divided in two, forming the New England region and the new Northeast region that consists of schools from Delaware to Western Pennsylvania.
Day one brought many challenges for the field of 51 players from around the Northeast region. Players dealt with temperatures hovering just above 40 degrees, and wet course conditions as they moved through the course woven into the rolling hills of Southwestern Pennsylvania.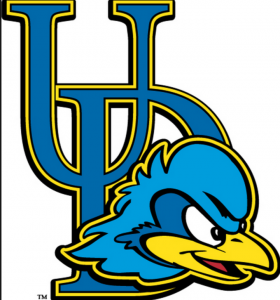 Following the first round of play on Saturday, the University of Delaware held the lead at +27, followed by the University of Pittsburgh (+48) and Duquesne University (+62). Senior Matt Lombardi of Delaware held the individual lead after one round, holding a three shot lead headed into the final round after carding a 74 on Saturday. Matt Milana (Pitt), Spencer Kuhn (Pitt), and Robert Anderson (Delaware) were locked in a tie for second place at 77 after the first 18 holes.
The final round of play on Sunday brought even colder temperatures for players, as play did not start until 10:30 am due to a short frost delay. Once play was under way, Delaware held the over ten shot advantage for the remainder of the tournament. Lombardi and teammate Robert Anderson led the way, shooting 79 and 76 respectively and tying for the top spot overall on the weekend. Lombardi's 35 on the back nine Sunday broke the tiebreaker and he was awarded the medalist honors. Penn State's John Peterson recorded the low round of the weekend on Sunday, posting a 73 to pair with his 81 on Saturday. The total score of 154 earned him sole possession of third place.
The University of Pittsburgh finished in a distant second, as a pair of Sunday 79's from Spencer Kuhn and Matt Milana led the way. Buffalo finished third in the tournament and earned one point towards Nationals qualifying.
The All College Golf Club Tournament Team finished as follows: Lombardi (+9), Anderson (+9), Peterson (+10), Milana (+12), Kuhn (+12), Mike Zupi (+12), Mason Short (+12), and Bryan Basciani (+13).
A special thank you goes out to the staff at Birdsfoot for hosting us, and for all the work they put in to prepare the course for the field. Regional #2 is scheduled on April 6-7 at the Bedford Springs Old Course.