We capped off the CGP Summer Tour with a Ryder Cup-style match play event. Team USA represented our country patriotically yesterday at Triggs Memorial, delivering an impressive win. Perhaps the US Women--who lost to 18-10 in the Solheim Cup, the women's equivalent to the Ryder Cup Event--could have used our help!
As history tells us, the American golfers play well when wearing ugly shirts (remember those epics shirts our boys sported in the '99 Ryder Cup at the Country Club - see here)
In preparing for the event, Jimmy Silva (wearing the legendary shirt on top right), went to the Salvation Army and made an all time best bargain purchase spending a whopping $1 on his patriotic short sleeved button down. With matching red pants, it was clear that team USA was not going down to their European counterparts.
Everyone enjoyed our 3-match format which included a 6-hole scramble match, a 6-hole best ball match, and a culminating 6-hole match play finale. Team USA got off to a hot start taking an early lead in the scramble format and never looked back as they breezed to a 10-6 win taking home Saturday tickets to the Deutsche Bank Championship.
Team Europe faired well walking away with some yellow Srixon Balls, but was never able to mount a charge against the powerhouse Team USA.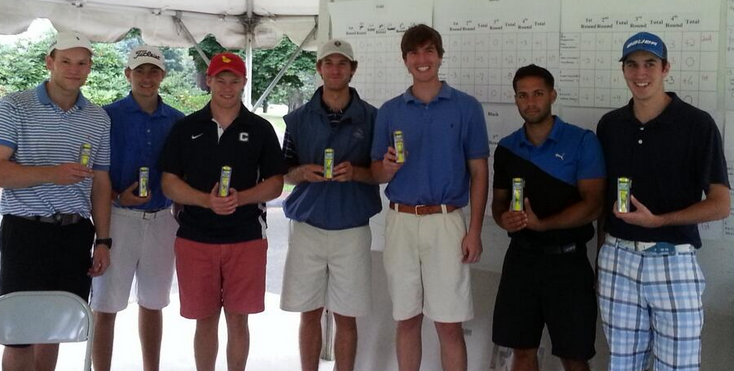 Course Review
Triggs Memorial is a quintessential classic New-England Donald Ross design. With rolling fairways and Ross' trademark table top greens, Triggs is a challenging but totally fair track that is definitely worth playing especially for you CGP members who can play the #3 ranked course (according to our friends at Golfweek) in Rhode Island for a staggering $25 dollars!
I must be honest, the course was not in the greatest shape, but the golf lover in me was able to look past the somewhat shaggy greens and occasional dry spot and appreciate the natural fescue, short walks from hole-to-hole, strategically placed bunkers, and diversity in shape and type of the holes that still make this 1932-designed course a gem in my eyes.
The course has a wonderful mix of birdie holes (all the par 5's can be reached in two) strategically mixed with some long par 3's and a daunting start and finish to the round with a slew of ~400 yards or longer par 4's. The course is utterly fair overall as everything is right in front of you and as always the case with Ross courses, you must  keep the ball below the hole.