Scores were low at the CGP Boston invitational with over half of the groups shooting in the 70s. Scoring conditions were good as the rain held off at Newton Commonwealth Golf Course--a short, hilly, and tricky course--and one of the most accessible to the Boston area (just off exit 17 if you are heading West on the Pike out of Boston).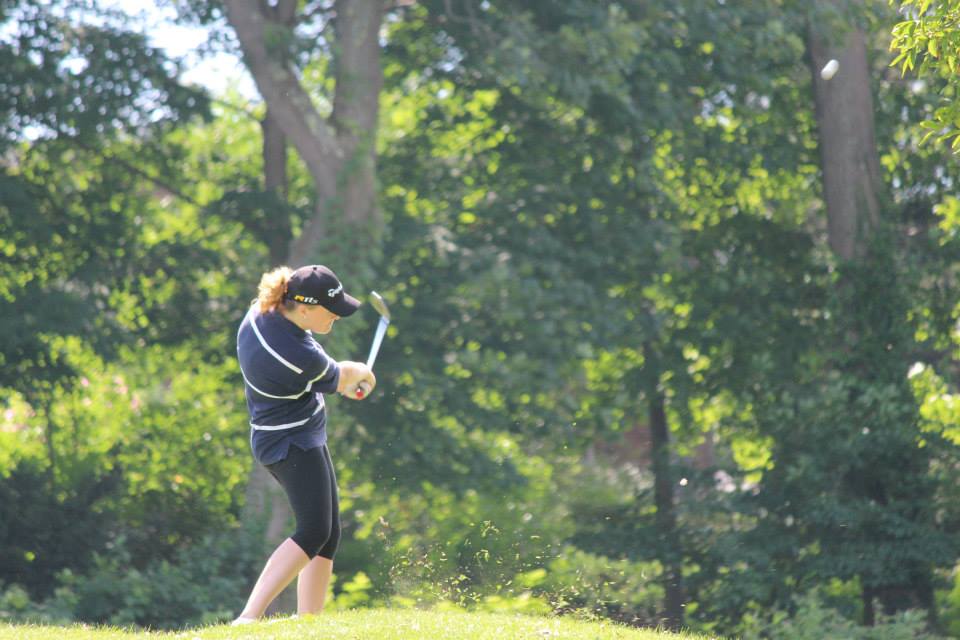 Leading the way with a first place score of 70 (even par) was the dynamic duo of the sweet-swinging Scotish sensation--Katie Masheter--and her partner, TJ Hadden, of Northeastern. Katie has earned a reputation as a good golfer in previous CGP events, and none of us were surprised after she piped a high fade down the fairway on the tight starting par 4, especially not Evan Paskalis of Northeastern who shouted, "That's not fair she's Scottish!" After the round TJ explained that he and Katie played good partner golf in that whenever TJ had a bad hole, Katie was there to back him up and vice versa. The victory was sad and sweet for Katie as this will be her last CGP event because her year abroad is coming to end as she is heading back to Scotland. She kindly offered TJ the winning prize of her ticket to the Deutsche Bank Championship - CGP members can buy tickets at an exclusive $25 rate.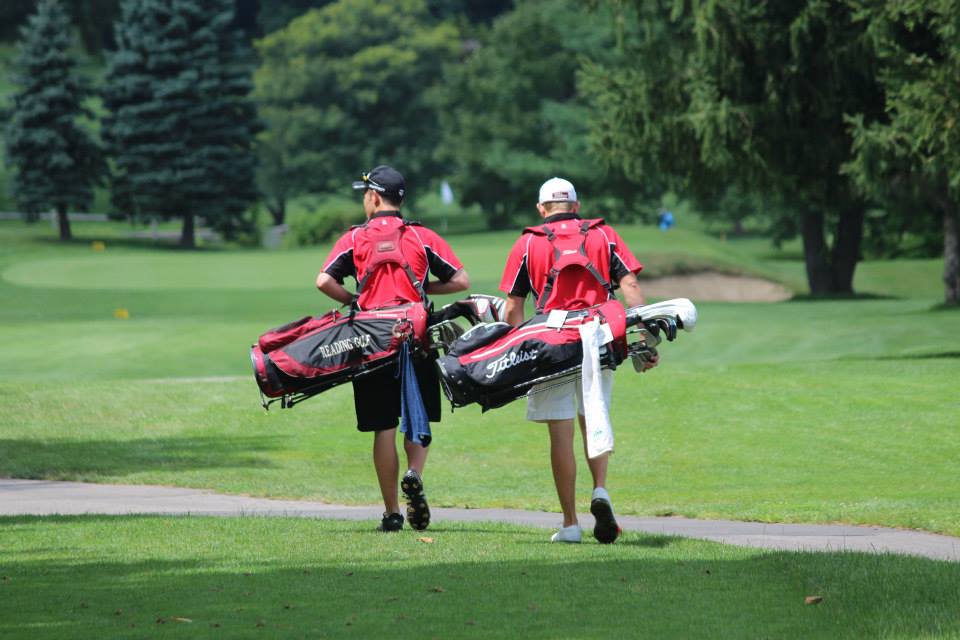 Rounding out the leader board were Justin Poitras & Victor Decaro with a score of 71 and Cody Phillips & Peter Brousseau with a score of 75.
Course Review
At less than 6,000 yards, Newton Commonwealth is anything but a bomber's paradise. With that said, the once Donald Ross designed course offers tricky undulations, blind shots, and ample birdie opportunities for those who can strategically plod their way around the course nestled just outside of Boston in the Newton Hills. Newton Comm is a great course for a player with a good wedge game; the greens are very tight and pins can be tucked, so being precise on those 50-100 yard approaches to a lot of the short par 4s and 5s is crucial to going low. The toughest hole is definitely the 2nd, a blind-drive, three-shot par 5 to an elevated green with water hazards lurking at different points. If one can get through number 2 with a par before the tricky par 3 third hole with a tiny and elevated green at 180 yards, you are looking at a low round with all of the birdie opportunities ahead of you.
The Course will always have a soft spot in my heart as I fondly recall watching my dad shoot his career best 68 on a Saturday morning 5AM tee off when I was only 11 years old. We could barely see are drives off the first tee. I encourage you to make your own golfing memories at Newton Comm, maybe it will be your first time golfing in Boston....
Updated Ryder Cup Standings
We will be having are Ryder Cup Summer Championship on August 18th at Triggs. Check out where you stand below!
| | | |
| --- | --- | --- |
| Name | School | Cumulative Points |
| Justin Poitras | Umass Boston | 26 |
| Josh Patriquin | Umass Boston | 24 |
| Jim Silva | Northeastern | 16.5 |
| Evan Paskalis | Northeastern | 11 |
| Katie Masheter | Northeastern | 10 + Exemption |
| TJ Hadden | Northeastern | 10 + Exemption |
| Sean Madden | Umass Lowell | 10 + Exemption |
| Andrew Spurr | Umass Lowell | 10 + Exemption |
| Bryan Gorham | Bryant | 10 + Exemption |
| Eric Sedransk | Babson | 10 + Exemption |
| Gerard Bernazzani | Bentley | 10 + Exemption |
| Nicholas Ohannessian | Syracuse | 10 + Exemption |
| Peter E Boulos | Syracuse | 10 + Exemption |
| Harry L Morris | Wofford | 10 + Exemption |
| Victor Decaro | | 9 |
| Austin Smyth | Uconn | 9 |
| Peter J Rodriguez | Uconn | 9 |
| Alejandro Lluberes | Uconn | 9 |
| Bram Berkowitz | Syracuse | 9 |
| Ryan Collins | Salem State | 9 |
| Dominic McCann | Northeastern | 9 |
| Andrew Murphy | UNH | 8 |
| Cody Phillips | CCRI | 8 |
| Phil Brousseau | Mass Maritime | 8 |
| Daniel Schwartz | Harvard | 8 |
| Paul Hammond | Babson | 8 |
| Carlos Jimenez | BU | 8 |
| Bryan T Lin | Illinois | 8 |
| Patrick Martin | Dartmouth | 8 |
| Jon Tosatti | Bryant | 7 |
| Gerard Bernazzani | Bentley | 6.5 |
| Chris Ryan | Umass Amherst | 6.5 |
| Sam Majewski | Bryant | 6 |
| John Hamilton | Umass Boston | 6 |
| Pat Bresnehan | Bryant | 6 |
| Chris Keane | UNH | 5 |
| Tony Phillips | Bentley | 5 |
| Tom Camann | U Tampa | 5 |
| Eric Reidy | Northeastern | 5 |
| Cameron Fitzpatrick | Plymouth State | 5 |
| Jonathan Bishop | Quinnipiac | 5 |
| Justin DiRienzo | Quinnipiac | 5 |
| Matt Nolfi | Ohio University | 5 |
| Anthony DeNisco | Bentley | 4 |
| Brian Hood | Bentley | 4 |
| Reed Palmer | Middlebury | 4 |
| Brandon Bogan | Northeastern | 3 |
| Dan Mooney | UNH | 2 |