#GOLFIS a challenge because if you don't play for an extended period of time, your game gets rusty and you make mistakes that you wouldn't make in midseason form.
Personally, I get out to play as much as I feel is right. Now, there are certain factors that help -- the first being I work at a golf course -- which means I get free rounds. Big plus. If everyone got free rounds of golf, every course in the world would be more backed up than the Holland tunnel. Think about it, who would turn down a free round of golf? The cost of a round is a big reason why people don't play as much golf as they would like. For millennial golfers, it isn't a high enough priority to spend $100 on a round, plus any other expenses like caddie fees or drinks. Golf is one of the most expensive sports in the world, and that has an undeniable effect on participation rates among casual golfers.
By: Campbell Ping
Twitter: @Pinger_24
Instagram: campbellping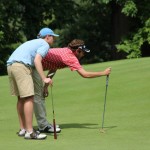 #GOLFIS a sport I've come to love over the years. I was first introduced to the game by my dad when I was very young. I remember going to the course with my dad and watching him play with his friends just trying to break 90. I still remember the set of TaylorMade clubs he had; I wanted to be able to swing a good set of clubs like his for the longest time, but I knew that I had to play with my junior clubs.
Now that I'm older, I notice all of the differences and similarities between how I act now and how I acted then. Today, I see how I'm the person that I've always wanted to be. I even have a nice set of clubs, and I actually play better than the man who introduced me to the sport. Connecting the dots of history and realizing how much the game has had an influence in my life is what golf really is.
By: Andrew Hoang
Twitter: @andrewhoang1349