The Nextgen City Tour is getting young professionals in the game this summer. With affordable golf tournaments in major cities like Boston, NYC, DC, Chicago, Nashville, and many more, Nextgengolf is making it easier for young professionals to play tourney golf. Over 50 tournaments are scheduled amongst 14 cities, all of which are at quality courses for an affordable price (average price is between $50-$95). The list of host courses is sure to impress. This past weekend the City Tour "teed off" at top courses like Harborside International Golf Center in Chicago and the National Golf Club in Fort Washington, MD. The caliber of courses for the monthly tournaments will continue to impress as the tour continues. However, even more impressive is the value of the experience in a sport where affordability is hard to come by. Equipment and apparel is an unavoidable expense in this game making the Player Shop deals available to Tour members even more beneficial.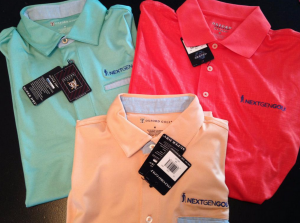 In addition to the affordable golf experience the City Tour provides, are deals and discounts on merchandise in the Player Shop. Brands like Srixon, Cleveland, Ogio, New Balance, State Traditions, and more are available at exclusive prices for young professionals with a Nextgengolf membership. These discounts can be utilized for customized team shirts from Oxford Golf, or for the new pair of New Balance golf shoes you've needed. Even better is the exclusive pricing on Srixon Z-STAR golf balls. Affordable golf has never been so accessible for 18-34 year olds.
A City Tour "card" gets young professionals more than just a few rounds of golf at some of the best courses in their city. This tour card is unlike any other as it grants access to competitive and fun golf events this summer, apparel and equipment discounts, the chance to compete at Cog Hill Golf & Country Club in the City Tour National Championship and a dozen Z-Star premium city-logo balls ($44.99 Retail) and a custom City Tour bag tag ($4.99 Retail). Whether you are looking to golf in Chicago, DC, New York, Boston, Cincinnati, Milwaukee, or somewhere else, the Nextgen City Tour is the go-to affordable golf experience for young professionals across the country this summer.
**Katherine Dobson is an intern at Nextgengolf. You can reach her on twitter @katherine_dobs.