For students, heading back to school means buying books, paying tuition, finding school supplies, and moving into a new apartment/dorm. Money is a premium, leaving very little change for extracurricular activities.
Enter Nextgengolf and the NCCGA. This year all NCCGA club golf team members will receive a Nextgengolf Collegiate membership as part of their club's team dues (last semester only 12 memberships were allotted per team). The affordable golf membership helps students save an average of $20 per round at more than 700 golf courses across the country.
All students in the Nextgengolf online portal that have completed their online profiles will receive an affordable golf membership. Complete your profile by logging-in to Nextgengolf, selecting "Edit Profile", and complete all the information. If you haven't been invited, send me (Travis@nccga.org) or your club president an email and we will add you to the team's roster.
If you have never used the Nextgengolf Collegiate membership before,  follow these simple steps to unlock an average savings of $20 per round at more than 700 golf courses across the country.
Play in an NCCGA Event this Fall
Using Your Affordable Golf Membership Pass
1) Log-in to Nextgengolf on your smartphone. Click "Access Collegiate Membership", and it will bring up your mobile membership.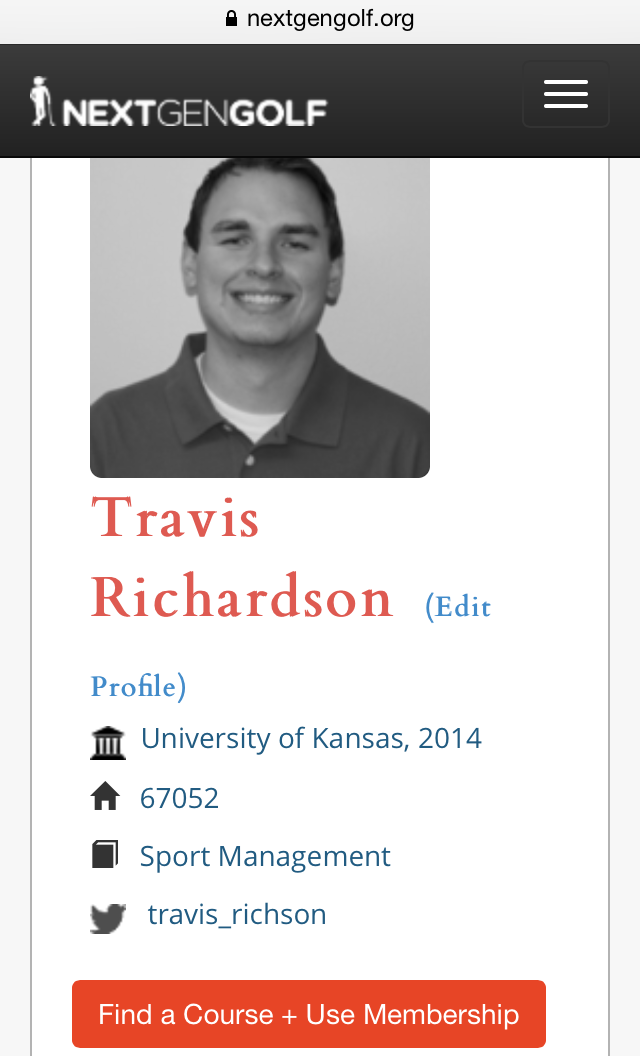 2) Click the button that says "Find a Course + Use Membership", and browse the Nextgen Partner courses located nearest your school.
     2a) Not at school? Type in your zip code to pull up a list of the closest courses to your location.
     2b) See a course nearby that is not college rated? Suggest them at the click of a button.
3) Click on the course where you want to use your Nextgen Collegiate membership. Each partner course will list the specific price and time restrictions. Show your membership view along with you student ID to the front desk at the golf course to receive the collegiate rate.
4) Thank the course for supporting club golf, enjoy the savings, and have a great day on the links!
5) Any issues using your membership at a course? Call Nextgengolf at 781-864-6430 and we will call the course and find a solution.
 **Travis Richardson is a Zone Manager for the NCCGA, working with students to help start club golf teams in California and the Southeastern United States. Contact Travis on Twitter @travis_richson