This past weekend I went to my first PGA Tour event, the Travelers Championship at TPC River Highlands. Since starting as an intern at Nextgengolf 6 months ago, I have gotten back into and renewed my love for the game of golf. I was very excited to go to the event to see what it was all about.
My Dad and I made the trip from Boston to Cromwell, Connecticut for the tournament. When we got there we saw lots of great golf, to no surprise. Seeing Bubba Watson tee off while standing on the edge of the fairway was exciting, and just walking around a TPC was great. The list of highlights goes on and on. However, my favorite thing about my first PGA Tour experience was seeing an army support a relatively unknown player.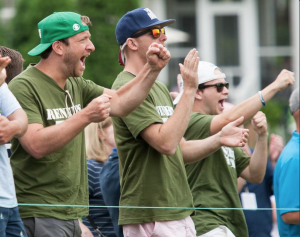 At the Travelers Championship, wherever Jim Renner went an army of hooting and hollering was sure to follow. I witnessed this group and it was pretty impressive. The group of about 35 people rallied together in support of a local golfer known as the People's Golfer. Renner's Army was lead by David Portnoy, also known as El Presidente of Barstool Sports. Members of the army wore green shirts with the words "Renner's Army" on the front. Jim Renner, who before last weekend had never finished better than a tie for 61st, tied for 48th at the 2015 Travelers Championship. While it was wonderful to see people support the underdog, even more exciting was the fact that majority, if not all, of these fans were young people.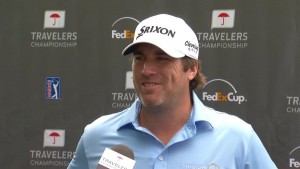 As an intern for a millennial golf company, it was great to see a group of young people take interest in the sport. Jim Renner said in an interview that most of his fans probably don't know much about the game but came out to support anyhow. Interviews with members of Renner's Army support the notion that they aren't all scratch golfers but rather simply love the game and wanted to support a local golfer. When asked about the army Renner said "they behaved, which I was impressed with for the most part …" but that he normally "likes to go a little bit under the radar". One thing was for sure this weekend; Renner's Army was not about to let the 'People's Golfer' go under any radar.
**Katherine Dobson is an intern at Nextgengolf. You can reach her on Twitter @katherine_dobs.