When you think of Boston, Massachusetts, often what comes to mind is the Founding Fathers leading the revolution and Boston greats David Ortiz and Tom Brady leading our teams to Championships. However, people may not realize that Boston golf also has a rich history.
Many are unaware of Boston's historic roots in the history and growth of golf in America. Boston is home to America's second oldest public course, William J. Devine Golf Course which opened its doors in 1896. Voted one of the top places to play by Golf Digest from 2007 to 2009. American golf hero, Bobby Jones often enjoyed the course while studying at Harvard. Just before, the opening of William J. Devine, The Country Club in Brookline, MA,  opened in 1882, making it the oldest in America.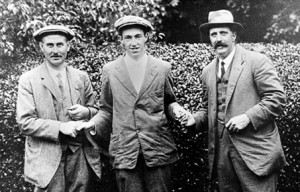 20 years later, in 1913, Boston found its first sports hero in Brookline's very own, Francis Ouimet.  In his very own backyard at The Country Club, Ouimet defeated Harry Vardon in the US Open championship in rainy playoff conditions. With the victory, Ouimet broke down the wealthy and elitist status quo of golf. In the following decade, two million Americans took up the sport.
The golf course legendary designer Donald Ross begins his roots in Massachusetts as well. Located in Watertown, Oakley Country Club was Ross's first course design where he later served as course Pro. Ross went on to win two MGA Open Championship and had four top-10 finishes in the U.S Open. He continued his work in Massachusetts going on to design some of the best Boston golf courses such as Woodland Country Club and Belmont Country Club.
Although it may seem that golf in Boston has become old news, it still remains an overlooked part of today's golfing culture. People may argue that Myrtle Beach or Florida are better golf destinations; they may be right if they are talking about taking a trip in January. Come New England's warmer seasons, Boston is one of the best golf destinations in the United States. The city of champions is home to countless golf courses in the surrounding areas with some of the best in the country. The Country Club, Boston Golf Club, Old Sandwich Golf Club, and the Kittansett Club are four Boston area courses all named to Golf Digests' 2015 Top 100 Golf Courses. But not only can you play great golf in Boston, you can also watch great golf.
Every Labor Day Weekend, the world's best golfers come to Boston hoping to advance to the next round of the PGA Tour FedEx Playoffs. Big names such as Rory McIlroy, Henrik Stenson, Rickie Fowler, and Phil Mickelson to name a few, walk the fairways of TPC Boston drawing large crowds and a great atmosphere. Aside from this PGA Tour event, Boston has hosted major golf tournaments at the Country Club such as the wild 1999 Ryder Cup and 2013's U.S. Amateur.
Boston may be in the running for another major golf event in 2024. Yes, the Olympics. As the United States Olympic Committee and the city of Boston prepare to win the bid for 2024, Boston could see a new stage for golf and the first ever in the country.
So the next time you think of Boston as a sports town, make sure Boston golf also comes to mind!
**John McBride is a former Regional Coordinator in the NCCGA, club leader of the UMASS Club Golf Team and 2015 graduate of the University of Massachusetts Amherst. John will be working full time at TJX starting this summer and is an avid golfer.