When I was informed that the NCCGA was creating a new position within its Student Leader hierarchy, Director of Women's Golf, I was excited about the opening of a new professional opportunity. Most of all, I was thankful that female golfers would have an opportunity to be recognized and heard within a wonderful organization.
As Director of Women's Golf, I will be responsible for women's integration among collegiate players and help ensure their comfort within the NCCGA and its events. In addition, I will attempt to increase women's participation both within co-ed teams and newly created women-only teams.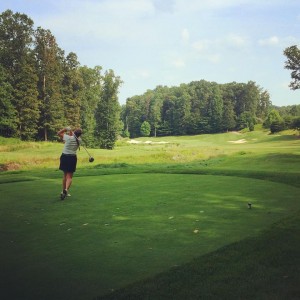 I was born in Paris, France and lived there until the end of high-school. My father being French and my mother American, I was lucky enough to grow up speaking both languages fluently. I started playing golf around the age of 8 but only started competing seriously when I was 12. In France, athletics are not a part of the educational system, so sports function within a system of regional leagues and country clubs. I was a member of a Country Club near Paris (Saint Nom la Bretêche), for which I competed both individually and on a team in the National Championships (junior and women). Team events are what got me truly excited about spending time out on the course and driving range; I'm glad that I am able to replicate that experience in college.
When I graduated high school, I crossed the Atlantic to come study at Wake Forest University, where I am a senior majoring in Politics and International Affairs, with minors in Economics and History. I joined the women's club golf team my freshman year. At the time the club did not participate in tournaments,  and practice was more of a social outing. Over the past three years though, we have formalized the program and now are the only competing women's team in the NCCGA. While it is sometimes daunting to play solely against men, some of our players often place in the top ten of our regional tournaments. I'm incredibly proud and thankful for the progress we have made!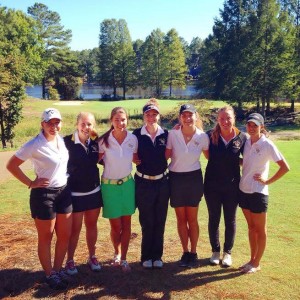 This semester, I'm hoping to create a strong network of female NCCGA players across the country. It's crucial for them to know that even though they might play with a majority of men, there are other women around the country doing the same thing and facing the same challenges. Playing amongst men is not always easy, especially when they are not expecting to play with women. That being said, I hope to normalize our participation in events and break any stereotypes that might exist toward women golfers. I can't wait to start working with the standing NCCGA student leaders and team, knowing that great steps toward the improvement of women's golf can be made!
If you would like to contact me about my position or if you have feedback about women's golf, please do not hesitate to contact me at anytime.
**Olivia de Fouchier is the NCCGA's Director of Women's Golf. Reach her via e-mail nccgawgolf@gmail.com or on Twitter @NCCGAWomensGolf.