It seems that Jamie Ehrhart was destined to play golf. Being born and raised in the small town of Quincy, Illinois, a town producing touring pros like D.A. Weibring and Luke Guthrie, success is not uncommon. Through the years, golf has become a part of Jamie's life. Since the age of three she has owned clubs and played golf competitively. She caught on quickly, only needing one year to win her first tournament at the ripe age of four years old. That win was the beginning of a tremendous career Jamie has continued into college golf.
As a junior, Jamie played in countless tournaments, winning often against both boys and girls; she took her experiences as a junior into high school where she excelled. Jamie played Varsity all four years, making the state tournament each season. From freshman year to senior year she continually improved her game, won many more tournaments, and had fun. Two of her biggest accomplishments were being named the Gateway PGA Sectioned Player of the year her Junior year, a season consisting of three wins as well as placing 5th in the State her senior year. Following high school Jamie played college golf at Northern Iowa.
Although Jamie succeeded in golf at all levels, it did not come easy. She has battled Scoliosis her whole life, which has limited her playing ability as she's gotten older. Jamie looks up to professional Stacey Lewis to help her accept her injury and excel through it, as Stacey suffers the same injury. Unfortunately, Jamie was unable to physically withstand the demanding schedule of a varsity golfer. After one year, she transferred to Saint Louis University, where she immediately found safe haven in their Club Golf Team and the NCCGA.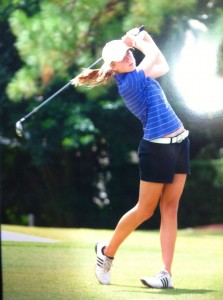 At SLU Jamie is able to perfectly balance school and golf much better than when she played varsity, which has helped her academics and health. When asked about club golf and the NCCGA Jamie first mentioned how it's fun but tough competing against guys. "Men obviously have the physical advantage, so mentally it's tough knowing you're at a disadvantage, but I love the challenge it presents." She is thankful that an organization like the NCCGA is around to allow her to play college golf, travel, and compete at great courses around the area.
Jamie also offered some advice for girls looking to start the game of golf at all levels. First she says to take advantage of tough competition, especially when playing against boys. At the same time she said to not worry about what others think about you. "Everyone has a different game, so just stick to yours and it will work out," she says. Jamie also recommends to all women interested in golf to check out Golf4Her. This new website serves as a wonderful resource for women to learn about the game and get started in golf.
Looking on after school, Jamie sees a future in golf. Over summer breaks, Jamie works at Quincy Country Club as a Junior Golf Instructor. She definitely sees herself continuing in the golf industry in the future, either at the junior level or as a high school coach. She also hopes to introduce her kids to the game one day, much like her parents did. The fact that her parents have always been supportive and never been over-bearing about golf is one reason she has been so successful.
You can follow Jamie Ehrhart on twitter @ehrhart_jamie as she hopes to lead SLU to victory in the Central Region.
**Jack Stephens is the Director of Communications and is looking for stories about NCCGA competitors. Email him blognccga@gmail.com with any lead stories.