Ohio State Club Golf…. What a ride it has been. Looking back on the past 4 years of college I couldn't imagine what it would have been like without club golf. Club golf was more than just getting together with 16 of my teammates and playing competitive golf. This was a place where I was able to make lasting friendships and unforgettable experiences, the highlight of my college career.
Club golf has taught me many life lessons and has helped shape me into the person I am today. From day one of joining the club I felt a part of something, but it wasn't until my junior year, after seeing all that Ohio State had to offer, where I decided I wanted to take my membership to a whole new level. Club golf became a culture of life during my junior year of college. I took over as Treasurer of the Ohio State club team and began working with Jake Detec, previous President, on ways to take the club to the next level. We did a number of things to change the program which included weekly practices/events, a fundraiser outing in the spring, renting a van for the Nationals trips and taking what was 1 unstructured group of about 13 guys into a club with over 25 members and 2 competing teams.
After seeing the turn out of the season and realizing how much I learned I wanted to take my experiences to the next level. After talking to Jake and thinking about it myself before heading to the Fall 2012 National Championship at Sea Island, I decided to apply for the Midwest Regional Coordinator position and what I thought was a long shot at the time the NCCGA Presidency. Over the first few years of club golf I had gotten to know the previous President, now NCCGA Chairman, Matt Weinberger pretty well, but I would have never guessed I would come to know him as well as I do today. I was selected to become the NCCGA President in December 2012 and this lead me down a new road I didn't even know existed. Matt and Jake became my mentors and taught me a little bit about club golf but even more about life and hard work.
So enough about me it's time to talk more about the club and what I loved about it so much. Club golf was founded with great values and has developed many traditions, that I can only hope when I return to a fundraiser outing 5 years down the road, still exist. I have added a list to the front of this journal that contains the traditions that stood while I was a part of the team. Keep these traditions alive because they are part of what have made this club what it is today. There are stories behind each tradition but those are meant to be shared from president to president and team member to team member.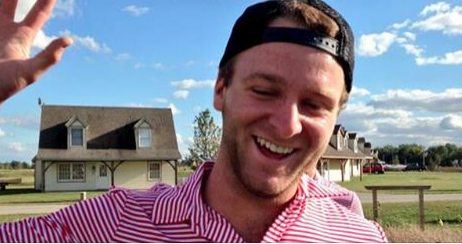 As I take this next step in my life into the real world I think back on my time with club golf and can hardly remember any specific holes let alone rounds. I medaled at 2 Regional Tournaments, attended 6 National Championships and made my first ever hole in one. That about sums up what I can remember about the golf rounds I played while in club golf, whereas the memories and friendships I made I could write a novel about.
Do not let the bogeys, 3 putts (sometimes 4 putts), double pars and OB shots get the best of you because those aren't what matter. What does matter and what you will remember is always having a good time, making new friends every weekend, and playing golf to get away from school. Club Golf was the closest thing I had to a family in college and I will never forget that. Cherish your time in college and make the most of every club golf trip you go on.
#PlayDirty #GoBucks
Treasurer 2012-2013
President 2013-2014
NCCGA President- 2013
Kevin Hamori
Follow the latest news for the Ohio State Club Golf Team on twitter @OSUClubGolf