With Nationals around the corner, it's time to take a closer look at what the Southeast Region will bring to the table when the first tee shots are struck at Barefoot Resort in Myrtle Beach. The region had a strong showing this season from several players individually, especially Rhoades Sturkie of Georgia Tech, while the Clemson and Georgia teams showed the consistency necessary to earn a nationals bid. Given that this was Georgia's first season with a club golf team competing in the NCCGA, their stellar play was extremely impressive.
Georgia was clearly the best team in the region this semester, as they won both regional tournaments. Their first win at Crescent Pointe in Bluffton, SC was headlined by the individual performances of Ethan Lambert who earned medalist honors, and Buck Patton who finished a close second just three shots back from Lambert. As a team, they only had one player finish outside of the top 21 scores at Crescent Pointe. Without a doubt, that is a winning formula. They ended up winning the second tournament at Greenwood Country Club by just three shots over a Clemson team that has been moving in the right direction as of late. We will see if Georgia can follow up their success this season with a national title run in Myrtle. The strong play at both tournaments propelled them to a top three finish in the national adjusted scoring average rankings, with an average differential of 38.69. They were right behind the Purdue Boilermakers, who play out of the Great Lakes Region, and National University Golf Academy, playing out of the California Region. Purdue and National University Golf Academy finished with scoring averages of 34.56 and 29.64 respectively. National University Golf Academy looks to be the favorite if we are just considering adjusted scoring averages.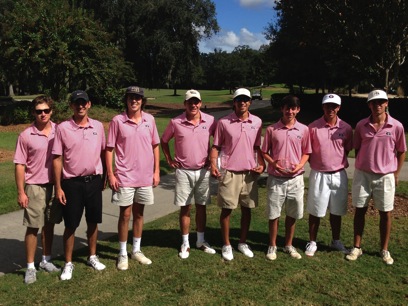 (Georgia after their win at Crescent Pointe)
The Clemson Tigers had a strong season, with second place finishes at both regional tournaments. Following their performance at Greenwood Country Club in the second regional, where they finished only three shots back from Georgia, it would not be a surprise if they factored in the national championship race down the stretch come Sunday at Barefoot. Andrew Carber, a 6'8" freshman who can absolutely pound the ball, led the Tigers in scoring average this season. He had NCAA Division 1 scholarship offers to play both basketball and golf, but chose to come to Clemson University to pursue a degree in business and potentially walk on to the varsity golf team. There was not an open spot on the varsity team this semester, so the club team was lucky enough to have him on the squad. Carber finished with a scoring average of 75 this season, with scores of 80-72 at Crescent Pointe and 75-73 at Greenwood. Clemson will need a strong performance from Carber to have a chance in the team race at Barefoot. I got a chance to ask Andrew what he was looking forward to most at nationals, "I'm most excited about getting to play against the top competition from each region and being able to represent my school with my great friends and teammates." In terms of possibly walking onto the varsity team next semester, Carber had this to say, "Next semester I will most likely still play club, however if a roster spot were to open up on the varsity team, it would definitely be an honor to play ACC Division 1 golf."  Thank you for your thoughts Andrew!
In terms of the rest of the Tiger's squad at nationals this weekend, it will be comprised of three freshman, one sophomore, two juniors and two seniors. Chris Miller, a freshman, and Matt Barth a junior, also both had NCAA D1 offers to play golf. Both Chris and Matt are engineering students at Clemson University. I, Johnny Garstka, a senior on the team and the regional coordinator also had a solid season. I had my best ever tournament finish at Greenwood, where I came in third place individually and fired scores of 77-75. The hope is for this strong play from the Tigers to continue this weekend at Nationals. Don't be surprised to see Clemson in the mix, or to see Carber's name near the top of the leaderboard in the individual tournament.
 (Clemson after their second place finish at Greenwood)
 (Carber and Garstka at Greenwood)
The region had one player qualify for nationals individually. Rhoades Sturkie of Georgia Tech is a senior and will be heading to Barefoot Resort this weekend. I had the opportunity to ask Rhoades what he was most excited about for this weekend, "I love the opportunity to compete against great competition, and see how I stack up. Since I have been in college, I haven't had the chance to do so as much as I would like, so I really like how the NCCGA has grown over the last few years to allow their national events to be truly national. I think it is going to be a great event overall and I'm happy I get the chance to play." Rhoades finished T-3 with Andrew Carber at Crescent Pointe after shooting scores of 72-80. Looking forward to seeing you at Barefoot Rhoades!
The growth Rhoades mentioned can be directly traced back to current president Kevin Hamori and the current chair of the NCCGA Board and former NCCGA President, Matt Weinberger. Both have done a phenomenal job in their respective roles, and this expanded national championship with 24 teams is really the culmination of all their hard work. I'm really looking forward to this weekend; it's going to be the best national championship yet! Go Tigers!