With every PGA tour player's success comes an extensive competitive tournament history. College golf in particular has helped sharpen the games of the world's best players to get them Tour ready. Let's take a look back and where three of the PGA Tour's best were in their college years: (Rankings from GolfWeek)
1) Luke Donald- The European star began applying for colleges through College Prospects of America and was quickly picked up by a number of coaches--most notably, Stanford's Wally Goodwin. The respected coach of Tiger Woods had been watching Donald's performance in European competition, but ultimately Donald joined Northwestern University's squad. Not once finishing outside of the top 20, Donald was victorious in 13 tournaments, 4 of which he won consecutively in the spring of 2001. Within this success, Donald was a four-time All-American.
Proving his rank as #1, Donald beat Tiger Woods' record of lowest scoring average (70.45) in a season and his record low score during his win at the 1999 NCAA Division I Men's Golf Championship. Donald subsequently turned pro right out of college in 2001 and has been a prominent name in golf ever since.
2) Adam Scott- Aussie Adam Scott's college career was short lived to say the least. Before turning professional, Scott played a year and a half  at UNLV where he held the #14 position for individual performance. Claiming his card midway through the 2000 season, Scott made just 1 in 6 cuts as a professional. Despite his slow start, Scott bounced back in 2001 season when winning his first of 19 total wins.

3) Tiger Woods- Claiming the #10 spot on Time's "Top 10 College Dropouts" list, Woods' incomplete college career was filled with insurmountable success. Prior to his college years, Woods was and is to this day the only 3-time U.S Junior Amateur Champion. Due to his stunning resume as a junior golfer, Woods was recruited heavily by various colleges. Signing with Stanford University, Woods won his first ever collegiate tournament at the 40th Annual William H. Tucker Invitational.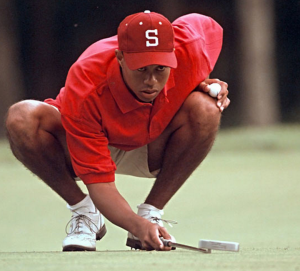 From 1994-1996, Woods set the record for most tournaments won at Stanford with 11 collegiate victories. After receiving Stanford's award of Male Freshman of the Year, competing in the Masters as a college student, and being the Pac-10 Player of the Year, Woods finally decided that it was time to turn professional. Despite his short lived collegiate career at Stanford, Woods nonetheless made a significant name for himself as a Stanford Cardinal.
Grinding it out on the range, traveling to tournaments all over the country, and living, eating, and breathing the game of golf are norms for outstanding college golfers. From Donald's four All-American titles to Scott's early departure into the professional scene to Woods' 11 collegiate victories, all such achievements sprung from a passion for the game and a hard earned successful college golf career.
**Mike Belkin is a Co-Founder of Nextgengolf. Contact Mike on Twitter @MikeBelkin11