This looks to be our biggest year yet in the Northern New England Region. Unfortunately, last spring due to weather, only one tournament was held. This took place at Blissful Meadows in Uxbridge, MA. Five teams entered in this single spring tournament, where the winner would move on to the National Championship.
We saw New Hampshire prevail as they posted the low team round of the tournament on the second day. This low second round proved to be crucial as they bested Maine by only a single stoke, and Northeastern University by four strokes. UMass–Amherst, as well as Plymouth State, rounded out the field for this regional tournament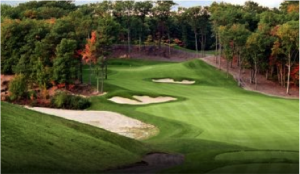 We had some stellar individual standouts in the tournament. Samuel Grindle from Maine was the tournament medalist, shooting a first round 79, before tearing the course up on the second day, posting a (-2) 69. This was almost the spark Maine needed to come out on top, but a UNH standout by the name of Cj Konkowski came in clutch, posting 79-71 to lead his club to the National Championship.
Andy Upton and Ben Whitaker, both with 84-81 from UNH, also finished in the top six for the tournament, in what was a very strong showing from the UNH club team. Mark Mancini was solid for UMass–Amherst, posting the other score in the top six, shooting 83-78. Connor Calhoun was the low player from Northeastern posting 80-86, while Plymouth State's Connor brown was the low player from his club, posting 91-85.
"Everyone is eager to get back out on the course this year, have some fun, and compete for a regional title. -Kevin Morrisey, UMass-Amherst Club President
Last spring the region hosted six schools, represented by 39 players. This year the field looks even deeper with twelve schools competing, bringing around 90 golfers to the first tournament, making this our largest Northern New England field ever.
Our first regional tournament will take place at the Oaks Golf Links in Somersworth, NH. Here, UNH will look to prove they're still the best club team in Northern New England. The second regional will take place at Crumpin Fox Club in Bernardson, MA.
While UHN is the highest ranked club in the region, according to preseason rankings, Northeastern University, Maine, and Vermont (among others) have all had great showings in past tournaments and will be viable contenders to take the region this fall. However, with rosters changing tournament to tournament, and the unpredictability of the game of golf, every team in the field has a shot. With the rest of the field consisting of Boston University, Dartmouth, Merrimack, Plymouth State, Saint Anselm, UMass-Amherst, and UMass Lowell, it's anyone's region for the taking!
**Luke Toomey is the Northern New England Regional Coordinator. Contact him on Twitter @NCCGANNE.