The NCCGA National Championship celebrates what club golf is all about: competition, friendship, and fun through the game of golf. Several teams that qualified for the #TrailToTPC this year are familiar with the National Championship experience and are especially looking forward to the camaraderie aspect. Here's a look at some teams who are in hopes of making a championship run and enjoying the social aspect of more than 250 golfers in the same area.
Illinois State University
Illinois State will be making their second consecutive National Championship experience. At the start of the season they looked good on paper. They returned 7 of their 8 players from last year, with an addition of transfer Austin Haven, who previously played varsity golf. With this returning talent, the Redbirds expected to make a run in their regionals.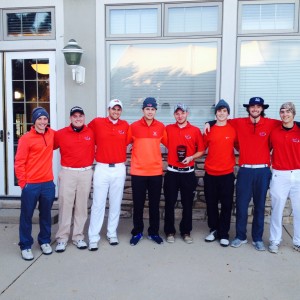 They did just that once again controlling the Great Lakes Region. Now, they look forward to a second opportunity to play in the National Championship. Reminiscing on last season, club president Mason Wicks shared his favorite NC memory. He remembers waiting to check into the hotel and getting to know the University of Delaware club golf team. He said they were making jokes back and forth and just enjoying being at the tournament and taking a break from school.
This year Mason is looking forward to seeing longtime friend Ryan Craig in San Antonio. Wicks and Craig played high school golf together as their teams #1 and 2 players. In college they went their separate ways, but now that both Illinois State and Miami of Ohio have qualified, they will be able to reunite through the game of golf. There's no doubt that Mason and the rest of the Redbirds will take advantage of this final event of the season.
Arkansas Tech University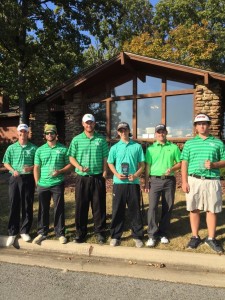 Winning the Ozark Region is nothing new for Arkansas Tech. This is their third season in a row defeating rival Oklahoma State University and earning an automatic qualifier. Arkansas Tech is a smaller school but can put up great scores. According to club president Collin Poole, they have four players who can all go out and win a tournament: Dillon Young, Zach O'Reilly, himself and Hunter Mobily. These guys have varsity golf experience and have brought that to their club.
When speaking about his teammates, Poole said it's been fun to have them all come together. They met each other through intramural sports and various connections on campus, and the game of golf has brought them close together. Another cool aspect to their club team is their relationship with the varsity coach. The men's varsity golf coach is the supervisor for the club team. Poole says both teams root for each other and they have a great relationship. When asked about what their team is looking forward to most about the National Championship, Poole said, "The experience. We're pretty relaxed and just want to enjoy playing where the Pros play. These tournaments are like mini vacations from school where we get to hang with the guys. We really enjoy club golf and are excited to have some fun."
Learn More about the NCCGA National Championship
When traveling long distances for tournaments, it takes a tight-knit team to stay focused and succeed. Arkansas Tech has that team chemistry needed that could separate them from the field.
Northeastern University
With their university being minutes away from the Nextgen Headquarters, Northeastern University has been a friend and competitor within the NCCGA for many years. This year they have overcome their archrival University of New Hampshire and won the region.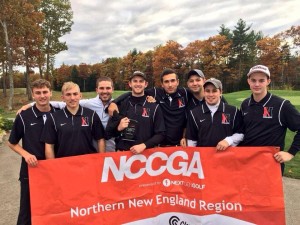 Northeastern has a unique chemistry amongst their club because of their location downtown. The closest course and practice facility they have is a 20-minute drive from campus and they have access to only two cars. Therefore, they have to all arrange when they can practice together each week. It makes it much tougher to stay on top of their game, but club President Joe Lacona said "It's really worth it to put in that extra work when it pays off, like this year."
Lacona and his fellow teammates have never played in a National Championship either, which makes this occasion more special. The six players traveling to TPC San Antonio are all returning from last year. They have been with each other for a few years now and are extremely excited to play for a National Championship. When asked about his team's goals for the weekend, Lacona said "We want to do our best. Everyone's personal goal wil be to put 2 rounds in the 70s. Our team average is about 79 or 80, so we would love to get a couple scores of 390 or 380." It will be interesting to see how their team can react to the Bermuda grass.
To learn about the new style of courses in the South, their team has been watching re-runs and highlights from tour events played there over the years. They are looking forward to the challenge of playing on courses different from what they practice on. Northeastern no doubt deserves this opportunity to compete on a National level. No matter where they end up on Sunday, it will be a successful weekend because they'll have enjoyed 70 degree golf versus the 30 degree Boston wind.
**Jack Stephens is the NCCGA's Director of Communications. Contact him on Twitter @NCCGA.