Even now—nearly 6 months since the end of the Battle for Bryan—the echoes of a massive revolution continue to reverberate through the Southwest Region. In their debut NCCGA season, the Golf Academy of America-San Diego (GAA-SD) unleashed a golfing blitzkrieg that took the region by storm. GAA-SD claimed both Spring Regional Tournaments in stunning wire-to-wire fashion and amassed an overall lead of 52 strokes over the 2nd-place team in both competitions, National University.
Both GAASD and National University earned tickets to Spring Nationals at Bryan Park, where GAASD finished T-4 and National University at T-23. Because of their impressive displays in the Spring, both GAA-SD and National University are ranked within the Top-25 teams in the entire NCCGA (3rd and 21st, respectively). Undoubtedly National University is hungry to reinstate themselves as the top dogs of the Southwest Region, a rank they had held firmly for many seasons prior to the Spring 2015 season. But don't expect
However, do not expect GAA-SD to relinquish their newfound superstardom without a proper rebuttal.
"Our goal is to play the best we can as a team.  If we do this, everything else takes care of itself," said Rich Iorio, the GAA-SD Club President. "This team has the capability to win the National Championship! The key is making sure that each player is focused and in a positive mind set before, during, and after competition."
GAASD and National University are not the only ones that have something to say about the outcome of the Fall season. Four seasoned teams will return to throw their hat into the golfing ring: Pepperdine University, University of Southern California (USC), University of San Diego (USD), and University of California-Los Angeles (UCLA). In addition, the Southwest Region will welcome players from two new participating schools: Asuza Pacific University, under Club President Taylor Cole; and Bristol University, under Club President Haven Brown.
Missing out? Join a club golf team
Pepperdine and USC have full conviction that they will be formidable forces for the entire region to reckon with. Pepperdine Club President Nick Schifano has his sights set solely on getting to Nationals:
"The expectation for this year is to win our region.  We realize how difficult this may be given the fact that we play in the Southwest Region with two Top 25 teams in Golf Academy of America-San Diego and National University, but between our returners and our new additions we have full confidence that this goal is within our reach.  Anything short of San Antonio would be a missed opportunity."
Pepperdine will welcome back star players Cam Davison and Joshua Shou. As individuals, the two of them placed within the top-3 in every regional tournament they played during the Fall 2014-Spring 2015 stretch. Shou earned the Medalist trophy at the Fall 2014 Regional 1 played at Los Robles Greens in Thousand Oaks, CA. Pepperdine will also showcase newly-acquired talent, including senior Andrew Duff.
USC Club President Kai Hayashida, a consistently competitive player in his own right, has prepared an arsenal of his own to bring into battle, and the seasoned Trojan leader is looking forward to the tournament season for multiple reasons:
"USC is excited about our incoming freshmen. They all have played competitive golf in high school, so we are looking forward to having them compete for our club team this semester. We also have three women that are all good golfers, and anytime that we can bring women golfers to a regional it is pretty exciting."
UCLA will be looking at the Fall as a season of redemption. The club showed solid form during the Fall 2014 season, with two 2nd-place team finishes and NCCGA veteran Dustin Watanabe earning medalist honors in the season's 2nd Regional Tournament. However, their performance during the Spring season did not build upon that form. The Bruins will return united under their new Club President, former Southwest Regional Coordinator Emily Sun. Current RC Dustin Watanabe gave his reaction to his team's last season and his thoughts on the approaching season: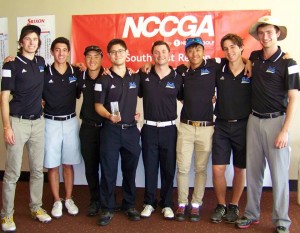 "The Spring tournament results did not accurately portray what our team was capable of doing. We can and will bounce back during the Fall. However, we will need a strong recruiting class, as some of our longtime competitors have graduated, including Nick Uyeda, Brad Kettenburg, and former Club President Ryan Hendler. Because both Fall Regionals take place so soon after the start of our academic year, I expect all of our players to be fresh and ready from three months of Summer golf."
University of San Diego Club President Brett Daly is also looking to the future, but perhaps a bit farther into the future than the rest of the teams:
"We lost 3 of our top 5 guys. Also we have others that are abroad this semester. I'm going to go ahead and call this a rebuilding season."
The Southwest Region is sure to be a major source of headlines in the upcoming #TrailToTPC.
***Dustin Watanabe is the Regional Coordinator for the Southwest region. Follow him @NCCGASouthwest for the scoop in the southwest.