It was late October, a couple weeks before the University of South Carolina club golf team's second NCCGA regional tournament when club president Evan Rodwell made a risky decision. He and his teammates bought plane tickets to San Antonio for the weekend of November 21st-22nd. The Gamecocks had not yet qualified for the Fall 2015 National Championship., as the second regional tournament wasn't for another two weeks. Rodwell was concerned if they waited until after the second tournament to book flights that they would be too expensive, so he decided to take the risk and make the purchase.
Fast forward two weeks and USC had just soundly won the second regional of the semester by 27 strokes, earning the automatic qualifier to San Antonio out of the North Carolina Region. Rodwell could once again sleep easy. He said the main factor in the decision was confidence: a common denominator in this golf team. All season USC has faced unique situations that they have overcome with confidence. To begin, South Carolina was unable to play in the Southeast Region, their traditional region, due to scheduling conflicts. They had the opportunity to compete in the loaded North Carolina region that boasts over 10 teams. Rather than backing down from the challenge, they confidently accepted.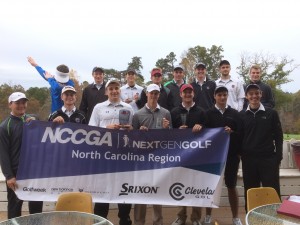 South Carolina has not played in the NCCGA National Championship in two and a half years. Along with the rise in competition surrounding the Carolinas, one factor could be the style of the Gamecock club golf team. Evan Rodwell describes his team as more of a "Golf Club" rather than "Club team" because of the social aspect to the organization. They keep 65 players on the team and all compete in an intra-squad Club Championship and Ryder Cup event. Those events are highlights for the club, but this year the focus is on NCCGA events. With a group of talented players and change in practice facilities, USC has turned their program around.
Earlier this fall the team upgraded its practice course to the beloved Columbia Country Club. This change in scenery has definitely helped the Gamecocks, but the real reason behind their success is raw talent. Three of the top eight players have the ability to walk on to varsity teams. Evan Rodwell, Bryan Grevey, and Dillon Eaton have all contacted college coaches about the possibility. These three players have all been a main factor to their team's success this year.
Learn more about the NCCGA National Championship
Another obstacle the Gamecocks will have to overcome is playing without Eaton in San Antonio, who is unable to play due to scheduling. However, junior Billy Freeman is keeping USC's hopes alive. Teammates describe him as "The nicest guy. A humble country boy from Georgia," but another description is a darn good golfer. This is Freeman's first year playing club golf and it could not have come at a better time. Billy has consistently posted low scores all season and has helped catapult South Carolina back into National Championship talk. He will be an anchor for this team in San Antonio with their all star Dillon Eaton.
Evan Rodwell says confidence will help his team achieve their goals. All season they have hovered around the upper 360s for team scores. At the National Championship, they hope to break 360 once. He thinks this will allow them place in the top 10, maybe even top 5. With the way their season has gone so far, from dominating a new region to buying flights before they qualified for nationals, there's no reason the University of South Carolina cannot do what they set out for.
**Jack Stephens is the NCCGA's Director of Communications. Contact him on Twitter @NCCGA.