Halfway through the NCCGA season, and halfway through the mid-season club golf rankings. In case you missed it, click here for part 1 of the rankings featuring the #11-#25 ranked club golf teams. Now we move to the top of the leaderboard with the #1-#10 teams. Is the Fall 2015 National Champion on this list? Only time will tell, but here's the best of the best through the first month of the season.
Disagree with the rankings, or have your own opinion? Let us know on Twitter by sending a tweet to @NCCGA. We'd love to hear from you and get your feedback on how the club golf rankings stack up.
FALL 2015 MID-SEASON TOP 25 RANKINGS

Golf Academy of America - Dallas (Texas Region)
The Golf Academy of America-Dallas is the hottest team in the country right now, and they have something to prove. Last year they made their first National Championship appearance and came up short finishing T-9th. This year, they are 1-0 in regional play and looking to make a run at Nationals. Led by Cory Pieper and Blaine Butner's 69-70 and 68-72 in the first regional, the Golf Academy was able to defeat Baylor by 8 strokes . GAA-Dallas looks to capture regional #2 as well. This is no guarantee coming out of the Texas Region. It will be tough to hold off Baylor, UT, and Texas A&M who all have the talent to post 4 scores around par at any given tournament.
2.  Baylor University (Texas Region)
After the first regional tournament the Baylor Bears are right where they started off the season, closely behind regional rival Golf Academy of America- Dallas. The Bears know what it takes to win a tournament in the star studded Texas Region, and over Halloween weekend they are in a must win situation. In the first regional tournament the bears shot a team total of 739 (+19) taking second place behind #1 GAA- Dallas. They were led by #3 ranked Bruce Ropp who fired a 73-68 (-3). Ropp tied the low round of the weekend in Waco when he shot a 4-under round of 68. The Bears are a consistent team and are hoping they can win the second regional tournament and receive an automatic bid to San Antonio to protect home turf.
University of Florida (North Florida Region)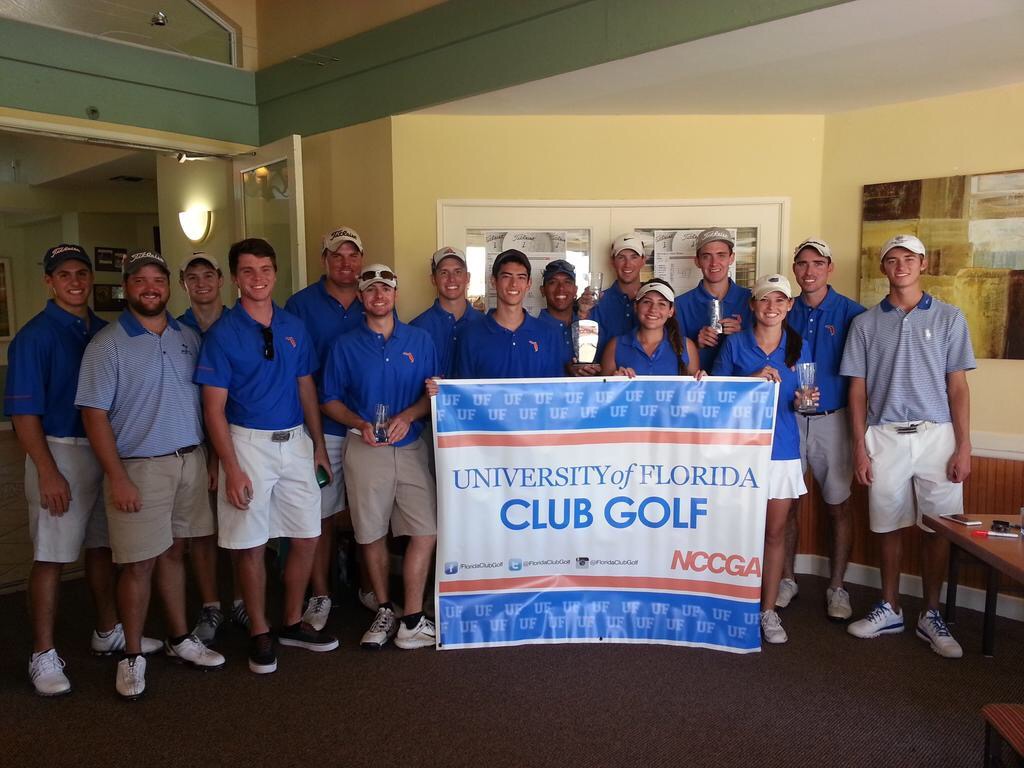 The Gators were our preseason ranked #1 Club golf team in the country, and although they have fallen to 3 overall, do not consider them an underdog to anyone. Florida has a chance to repeat as National Champions and are taking the opportunity seriously. Despite losing several team members from last season, Florida has had new teammates step up. At the first tournament the team was carried by Josh August, Josh Dubberly, and Tyler Segal who finished 1st, 3rd, and 4th individually in their first regional. One of Florida's strengths is their depth. All 8 of their A team players have the ability to  contribute good scores, which is needed in high level competition. The gators still have one more regional tournament to play this weekend, but have secured a bid to nationals as reigning champions. Florida will be the team to beat this November as teams battle at the #TrailToTPC.
University of Texas Austin (Texas Region)
The Longhorns are trying to make a run at the National Championship once again. With a region filled with a lot of talent they are going to have to make a few adjustments to hopefully beat out their neighbors Baylor and GAA-Dallas and clinch an Automatic bid. During the first regional tournament the Texas Longhorns started a little flat after the first day but came back firing during the second round to tie the team low score of 362. They were led by #10 ranked Tyler Bumpass firing a 74-71 (+1) putting him in 6th place and on the All Tournament team. The Longhorns are back in action in a couple weeks as they try to clinch their spot at the National Championship
University of Georgia (Southeast Region)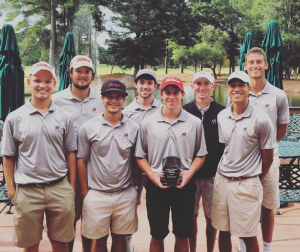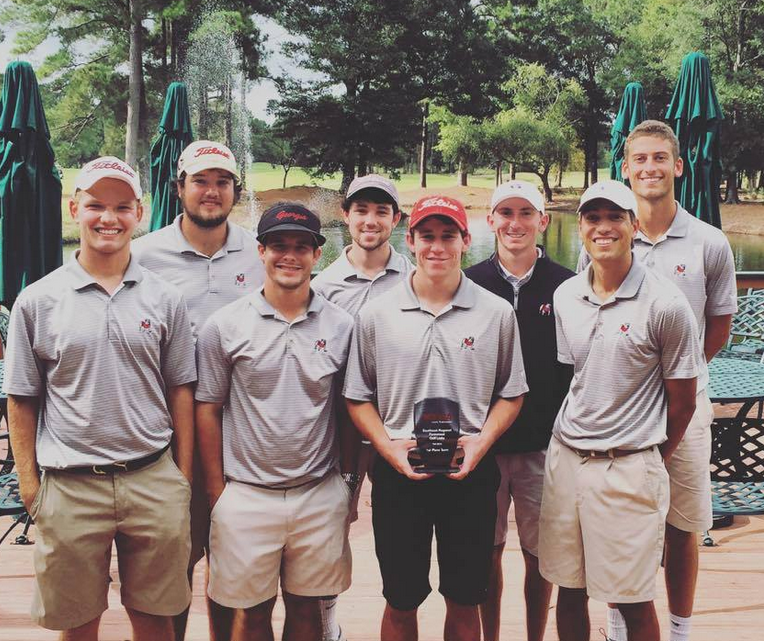 At the beginning of the year we knew Georgia was good, and now they are proving just how good they are. They began the season ranked 14th overall thanks mostly to their performance at the National Championship in the fall where they finished 7th at Bryan Park. This year in their first regional they beat 2nd place Golf Academy of America-Myrtle Beach by 13 shots and powerhouse Clemson by 26 shots. This win among such great competition shows how dangerous Georgia is. At their first regional, they were led by Adam Davis who shot an impressive 3 under par to capture overall medalist honors. Some of Georgia's other talent comes from Jordan Davis, Ian Nadasdy, and the regional coordinator Ethan Lambert. Georgia will compete in their second regional this coming weekend, where they once again have the opportunity to win a Southeast Regional and show the country what they are capable of this season.
Arkansas Tech University (Ozark Region)
There is no stopping the guys from Arkansas Tech from getting an automatic bid to the National Championship once again. They were one of the first teams to clinch an automatic bid after defeating Oklahoma State in both regional tournaments. During the first regional tournament the Ozark Regional Champions fired a team total of 756 led by 2nd place finisher and #5 ranked Zachary Oriley who shot 73-72 (+1). They had 3 players make the all tournament team and the team was feeling good going into the second regional. Arkansas Tech knew they had to win the second regional tournament and that's exactly what they did, coming out and firing a team total of 774 led by medalist Collin Poole who secured the victory on Sunday afternoon firing a 1-over par 72. They had 4 players on their team make the all tournament team. They will be a force to be reckoned with at TPC San Antonio come the end of November!
Golf Academy of America-Chandler  (Desert Region)
The Golf Academy of America at Chandler was able to win their first regional play thanks to great scores from Michael Wood, Devon Montoya, and Jacob McKinney. Wood won the tournament individually with a 3 over 147, and Montoya and McKinney finished one stroke behind him to tie for second. However, he hero for the weekend was McKinney, who fired a second day 70 to create a cushion between second place Arizona State and secure the regional victory. GAA-Chandler came into the season unranked. They have not qualified for a National Championship yet, so they are in position to make team history if they can play well at the next regional tournament on Halloween weekend. The Golf Academies have a promising history in their short stint in the NCCGA, so expect good things from Chandler.
Florida State University (North Florida Region)
The Seminoles are showing their true colors this season. Even though they have to deal with one of their rivals University of Florida they are showing the country that they have a legitimate chance to compete for a club golf National Title this season. During their first regional tournament the Seminoles took 2nd place, by 15 strokes, behind the defending national champions. As a team they played very consistent golf, firing daily totals of 375 and 376. The Seminoles were lead by 2nd place finisher and T-10 ranked Alexander Mcdermand who shot 72-72 (E). Alexander was tied for lead after the first round and played very consistent golf for the entire tournament, only to be one upped by the low round of the tournament (68) and lose by 1. The Seminoles are back in action this weekend as they head to Gainesville to try and knock the Gators off at their home course!
Stanford University (Pacific Region)
Stanford dominated the Pacific region this fall to secure their spot in the #TrailToTPC. This dominance is rooted in the versatility of the team. They have a large team and can rotate players in and out when needed. In the first regional, where they beat Cal Berkeley by a whopping 51 shots, their top three scorers were Benoit Miquel, Will Bertelson, and Pavin Chayavivatkul. However, Stanford had a much different lineup in their second regional. They still took down Cal to claim the region, but this time their top scorers were Chris House, Jisoo Keel, and Will Bertelson. This versatility will prove advantageous come late November when we battle for a National Champion. Stanford will also have an advantage going into Nationals knowing so far ahead of time they have qualified. Now they can use their time to prepare for San Antonio rather than worry about other obstacles along the way.
Golf Academy of America- Myrtle Beach (Southeast Region)
After one tournament in the Southeast Region, the guys from Golf Academy of America- Myrtle Beach are trying to find a way to stop Georgia club golf from getting the automatic bid out of the Southeast Region. As a team GAA-Myrtle Beach played very consistent but fell short during the first regional tournament. They finished 2nd as a team and were led by #18 ranked Eric Eaton who finished in lone 2nd out of the field. Eric started off the tournament firing a 78 during the first round but that didn't hold him back from shooting a tournament low score 67 (-5) during the second round. GAA-Myrtle Beach will be back in action this weekend as they work to try and get an automatic bid to the National Championship.
**Adam Englehorn and Jack Stephens are NCCGA Student Leaders. You can follow them on Twitter @NCCGACampaigns @NCCGABlog