Time flies when you're having fun. It's hard to believe it, but we are already halfway through the Fall 2015 NCCGA Season. The National Championship is now one month away. 11 club golf teams have already qualified for this season's National Championship, which will be taking place at TPC San Antonio, and dozens of others are still fighting for an elusive bid. At the mid-way point, here is (part of) the top 25 club golf teams in the country.
FALL 2015 MID-SEASON TOP 25 RANKINGS

Keiser University (South Florida Region)
Keiser has always been in the shadow of the University of Florida in the old "Florida Regional." Now that Florida has been split into a North and South region, Keiser University has taken the South Florida region by storm. They won their first regional tournament in dominant fashion. 4 of the top 5 low individuals came from Keiser University. Those players are Anthony Hegger, Jonathan Lipsey, Daniel Pachon Vargas, and Raphael Tolentino. Keiser looks to continue their winning streak this week at Woodlands CC in Taramac, FL. The only thing standing between Keiser and a National Championship bid is the University of Central Florida. Keiser bested UCF in the first tournament, so the drama will be high in their second meeting this week.
Oklahoma State University (Ozark Region)
The Ozark Regional runner-ups showed the NCCGA that they belong in the Top 25 after they were upset at the beginning of the season when they didn't make the pre-season polls. As the Cowboys reflect on their regular season I hope they are still practicing because in couple weeks they have a chance at becoming a wildcard team and getting an invite to San Antonio. They finished 2nd place in both regional tournaments behind Arkansas Tech. In the first regional tournament the team was led by #8 ranked Jacob Oaks who fired 70-77 (+3) to take 3rd place and keep the Cowboys in contention for a regional championship. At the second regional tournament the team was close to taking the crown away from Arkansas Tech but fell short. They were led by #12 ranked Stephen Allen who fired 75-73 (+6) and Cole Schwab 78-74 (+10) who took 2nd and 3rd place giving the Cowboys the best chance to win the tournament. The Oklahoma State Cowboys are a team to keep your eye on in the future and hopefully here in a month as everyone makes their way to TPC San Antonio.
University of Oregon (Northwest Region)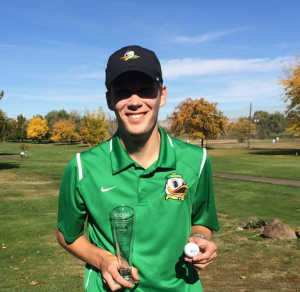 Last fall the University of Oregon Ducks trekked across the country to compete in their first ever NCCGA National Championship. This spring, they are headed back to the National Championship. This year, the Ducks have a strong campaign heading into San Antonio. Kevin Mackin and Charles Sitton V have both won regional tournaments individually with scores of 1 over par and 1 under par respectively. Along with Mackin and Sitton, Daniel Chalmers, Robert Moir, Brandon Garcia, Andrew Newhouse, and Connor Jetton have all played solid golf, helping their team bring home the hardware in their regionals. Last season Oregon finished T-25th at the National Championship. This year expectations are higher. Sitton, Mackin, Chalmers, Moir, Garcia, and Newhouse are all returning members from last year's team. Now that they have experience on their side, they will attempt to make a run at the National Championship. Although the Northwest region is still young, they are stacked with talent and have a chance to make a run in San Antonio.
Colorado State University- Fort Collins (Mountain Region)
The Mountain Region is one of the newest regions in the NCCGA is just about to make a splash in the National Championship and be Colorado State University. Despite losing their first tournament by three strokes , the Rams have the talent to compete in the National Championship. The team has posted 364 as a daily total 3 straight times equaling only 22 over par.. They have a team that has played consistent golf through two straight tournaments. Tyler Bricker, Ryan Pettegrew, and Adam Serbousek have made made the all tournament team for both tournaments and if you add add Will Fowler they are going to be hard to stop. Bricker is ranked #9 in the latest NCCGA Player Rankings, he tied for second in the first regional tournament shooting 71-71 (-2) and then came out the following weekend to win by five strokes shooting 70-64 (-5). Keep your eye out for the Rams in November, as long as they don't get snowed on and can still practice I think they will be an impressive team to watch.
Golf Academy of America - Orlando (North Florida Region)
The Golf Academy of America-Orlando didn't win their first regional tournament or even take second place. They finished third, but are still ranked 15th in the country. This proves the strength of the North Florida region. This year GAA-Orlando has been lead by Charlie Holst and TJ Pezzulo with their strong scores of 75-73 and 75-75 in the first regional. They will need strong scores again from these two at their next regional tournament this weekend  in order to overcome Florida and GAA-Orlando and make a run at a bid to nationals. Regardless of the results, expect great golf from Orlando this weekend.
University of Colorado- Boulder (Mountain Region)
The Buffs have had an impressive Fall 2015 Campaign in the Mountain Region, barely missing the chance for an automatic bid to the National Championship. They lost the automatic bid by 1 stroke on a Tie Breaker. They beat #14 Colorado State in their first regional tournament by 3 strokes but fell short by 4 strokes the following weekend. The have two players ranked in the Top 25 Individual Player Rankings: Ryan Crane (16) and Ryan Schmitz (19). Crane led the team in the first tournament to a victory as he fired two smooth rounds of 71-71 (-2) taking individual medalist. During the second regional he showed up to play again shooting  71-74 (+3) and taking 4th. He might be getting a phone call in a couple weeks to represent the Buffs in San Antonio if his ranking can stay where it is through the next few weeks of play.
Arizona State University A (Desert Region)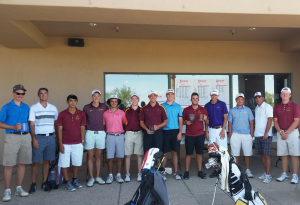 Arizona State was absent from the national championship last season, thus giving them a goal for this season: make it to San Antonio. The Red Devils put up a very strong performance at their first regional tournament despite a second place finish. Earlier this fall ASU came up 8 shots short of beating the Golf Academy from Chandler and winning the tournament. However, thanks to strong play from Particio Espinosa, Brandon Lusting, and Alec Costello, ASU has given themselves a chance to win regional #2 and earn a bid to the National Championship. Espinosa led the Red Devils with a 76-74 for the weekend, earning a solo 5th place finish. In order to win the next regional, it will require lower scores from the rest of the ASU squad. This is very possible with their young talent as they become more familiar with college golf and the NCCGA.
University of Missouri- Columbia (Central Region)
The 2014 Fall National Champions are at it again, with only one regional tournament left to claim the Central Region and have a chance to win the National title once again in the Fall Season. They won their first tournament by 42 strokes and had 2 players off their 'A' team take all tournament team and they even had one off their 'B' team make it. I bet he will be on their 'A' roster this upcoming weekend, as they head to Kansas City, MO. Clayton Voss has led the team thus far taking individual medalist at the first regional tournament and finding himself ranked #13 in the individual rankings. He shot the two low rounds of the tournament (75-71) and beat the field by 6 strokes. The Mizzou squad has shown they can win a National Championship, if they get past this weekend we will be seeing them in San Antonio and trying to bring another title back to Missouri.
Golf Academy of America- Carlsbad (Southwest Region)
Following another stellar season in the southwest region, The Golf Academy of America-Carlsbad has earned a spot back to the NCCGA National Championship. This was expected as Carlsbad was ranked top 3 in this season's preseason rankings. They backed up the hype with two wins in both their regional tournaments, the second coming in emphatic fashion. This year's Carlsbad team is led by the deadly duo of Kureish Samanodi and Ethan Heim who have been GAA's leading scorers in both regional events this fall. Be on the lookout for both Samanodi and Heim to have an electrifying National Championship run as they hope to improve from their 4th place finish last year. The sky is the limit this season for GAA-Carlsbad.
Clemson University (Southeast Region)
One of the preseason favorites got off to a slow start at their first regional tournament but they are looking forward to trying to defend their Southeast Regional Title this upcoming weekend. They have a lot to live up to after being crowned the Fall 2014 Co-National Champions after being rained out, despite leading by 10 strokes after the first round. They followed it up with a 3rd place finish at Bryan Park. To start off their Fall 2015 Campaign, the Tigers took 3rd in their first tournament behind #5 University of Georgia and #10 GAA- Myrtle Beach. They have been led by returner and Spring 2015 individual runner-up Matt Barth and newcomer Reid Smith. Both of which took All Tournament team in their first regional tournament despite taking 3rd as a team. Reid led the way after finishing tied for 4th place after shooting 69-79 (+4). Matt was closely behind tied for 7th shooting a 74-76 (+6). Clemson needs a solid upcoming weekend of golf to clinch the Regional Title.
Texas A&M (Texas Region)
Texas A&M is the fourth team to be ranked coming out of the Texas region (is that saying something about the Texas region or what?!). A&M is led by standout Jeremy Salas, who shot a 3 under 141 at the first regional to earn 3rd place as an individual. Along with Salas, Texas A&M relies on Cody Marquardt and Garrett Gunter for strong play. They will have their work cut out for them in their second tournament after placing 4th in their first regional. A win at their next tournament may not be enough to earn the automatic bid, but they could still turn heads and receive a wildcard bid to this season's National Championship if their strong play continues . Texas A&M will return to action in two weeks as they look to keep their National Championship hopes alive.
Iowa State University (Twin Cities Region)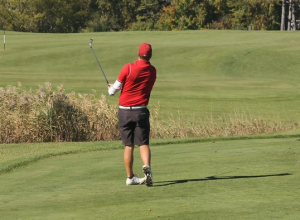 The Cyclones aren't going anywhere, the team full of former Student Leaders and Regional Coordinators want their chance at the title in November. They won their first regional tournament the Fall 2015 season and are looking to defend the regional title this upcoming weekend. During the tournament at The Winds Golf Club, they won by 15 strokes and were led by David Stein and Matt Dohse. These two aren't new to leading their teams - David represented the team at the Fall National Championship and both made appearances at the Spring National Championship despite the team's 20th place finish. Stein won the first regional tournament by 6 strokes firing 78-71 (+5), and I'm sure we can all expect a couple good rounds out of him this weekend. Dohse wasn't far behind after having a great second round leading him to a tie for 5th place shooting 83-75 (+13). Let's see how the Cyclones fare this weekend and we have a good chance of seeing them at TPC San Antonio.
University of Central Florida (South Florida Region)
Like Keiser University, UCF used to be in the shadows of the University of Florida before being moved into the new South Florida Region. UCF has really taken advantage of this opportunity. Before this season, Central Florida was not ranked and nationwide expectations were not too high for this team. However, following a strong tournament one perfomance led by Daniel Robinson's 76-74 effort, UCF understands they have a chance at capturing a bid to Nationals. In order to end that drought, there are several scenarios that could get UCF the bid. However, the most straightforward way to clench a spot at the #TrailToTPC would be to beat Keiser by more than 17 shots this coming weekend. If UCF can win the tournament by a margin greater than 17 strokes, they will end the draught and qualify for the National Championship.
Missing out on the fun? Join the NCCGA
Purdue University (Indiana Region)
The defending Indiana Regional Champions are looking to make another trip to the National Championship, and they are off to a good start. They won the first regional tournament over Notre Dame by 7 strokes. Their two stroke lead after the first day didn't look safe, but after four players turned in scores of 75 on Sunday the Fighting Irish couldn't fight back. They finished the tournament at 40 over par shooting daily totals of 383-377. Along with their win they had 4 players finish in the top 8 to make the All-Tournament team (Bennett Rieke 3rd (+5), Anthony Zachman, Ryan Murray, and Patrick Fox tied for 5th (+9)).With consistent rounds out of four players they are going to be hard to beat in the second regional tournament over Halloween Weekend. Purdue is hopeful to defend their title and represent the Indiana Region once again.
Arizona State University B (Desert Region)
Arizona State University has something special going on this year. ASU is the only school with both an A and B team ranked inside the top 25 power rankings. At the first desert regional tournament, ASU B placed third behind the Golf Academy and the Arizona State A team. Having two teams from the same school ranked so high is a rare occurrence but reflects the great leadership and talent that Arizona State brings to the NCCGA year in and year out. The ASU B team is led by Alec Miller, Teig Hauer, Jerry Vongkoth, and Desert Regional Coordinator Andrew Slonski. ASU B will also tee it up again in 2 weeks for their second regional of the semester. Be on the lookout to see if this Arizona State team can knock off their teammates at the next regional.
**Adam Englehorn and Jack Stephens are NCCGA Student Leaders. You can follow them on twitter @NCCGACampaigns @NCCGABlog