In just its third year in existence, and second year competing, the Golf Club at the University of Central Florida found that the NCCGA and NextGenGolf was Money. Dave Money that is. Through the regulation of competitive non-varsity college golf tournaments, the NCCGA offers club golf teams a valuable and immediate way to compete on a local, regional and national level. The NCCGA has 27 regions across the country, including the Florida Region.
The mission of the Golf Club at UCF is to strive to create an environment where students of all skill levels can learn, develop, practice and compete while simultaneously creating opportunities to grow personally and professionally through the game of golf.
It was this mission, in part, that led the team to join the NCCGA, despite the club consisting of mostly high-handicap players who had little to no experience in competition. NCCGA tournaments provide a unique opportunity for college golf club teams to compete and network with other golfers and professionals. Networking paid off big for the UCF team when Dave Money, a Keiser University team member, offered to donate his time to coach the club.
Money, a Melbourne, Florida native, served in the U.S. Air Force. He climbed to the rank of Master Sergeant before retiring. He holds a B.S. in Applied Science and Technology from Almeda University and began pursuing a B.S. in Golf Management from the Keiser University College of Golf in April 2013.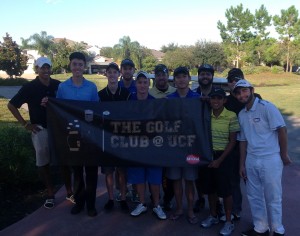 "I met Bill (President of the UCF golf club) and played against the UCF team several times," Money said. "I saw an opportunity to help his team and get my feet wet coaching and instructing. It was a good fit. I became friends with the team members and we all benefited."
Coach Money began working with the club in May 2014 and had an immediate impact. UCF senior Steven Barbuto said Coach Money was instrumental in helping him with course management and putting.
"He taught me a technique to control my power and better judge distances when putting," Barbuto explained. "It really helped me eliminate strokes on just about every hole."
As the Golf Club at UCF continues to grow and improve, the ability to offer instruction as a perk of joining the club is an invaluable resource for recruiting. The club has doubled in size and now sends two teams to each of the NCCGA Florida Region Tournaments.
** Bill Morrison is a graduate student at UCF, and President of the school's golf club. Contact Bill on Twitter @Randombilliam.