Club golf is back into the full swing of things for the Spring 2015 season. This weekend there will be three regional tournaments taking place across the country. The Ozark and Pacific Regions will be hosting their first regionals of the season, and the Southwest Region is already playing its second and final regional of the semester. In addition to the Regional action this weekend, don't forget to check out the ways to win the spring 2015 #ClubGolf Challenge!
Ozark Regional #1
The talented Ozark Regional consisting of Oklahoma State, Oklahoma, and Arkansas Tech will be playing at The Golf Club At the Resort; a tremendous risk/reward course in Fort Worth, Texas. Any one of these three teams could win this weekend. Both OSU and Arkansas Tech qualified for last season's National Championship, so they have the necessary experience. It will be interesting to see who will come out on top this season.
Pacific Regional #1
The Pacific Region will also be playing their first regional tournament this weekend. This is a young region, so the only two teams competing will be Cal-Berkeley and Stanford. Both schools will bring an A and B team, qualifying this region for a national championship bid. Stanford and Cal are long-time rivals. Their football teams always compete in "The Big Game" and their club golf teams always play each other well. Stanford defeated Cal in both Regionals last season, so look for Cal to fight back in this season's "Battle of the Bay."
Southwest Regional #2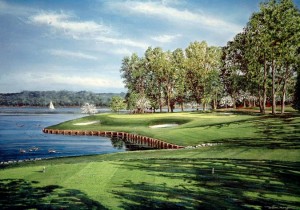 Lastly, the Golf Academy of America-Carlsbad will attempt to win their second Southwest Regional and secure a spot at the #Battle4Bryan. There will be five teams competing this weekend at the Apple Valley Golf Course in California. National University, UCLA, USC and University of San Diego as well as individuals from Pepperdine and Point Loma Nazarene are all looking to oust GAA-Carlsbad as Regional champions. The forecast looks great and there are big stakes on the line here in the Southwest's "Duel in the Desert." Stay tuned to see if GAA-Carlsbad can close the deal and be the first club golf team to punch the first ticket to Bryan Park for the Spring 2015 National Championship.
**Jack Stephens (@NCCGABlog) is the Director of Communications.