The game of golf is not easy under any circumstances, especially when you're standing over a putt worth $100,000. Former NCCGA standout Josh Rackley found himself in that exhilarating situation a couple weekends ago at the Haverford Philadelphia PGA Classic.
Rackley, a 25-year-old assistant golf pro at Gulph Mills Golf Club has a unique background to his now professional career. Unlike many professionals who have been swinging golf clubs since they could walk, Rackley took the game up as a fifteen year old. He quickly fell in love with the game, getting very, very good at the same time. He chose to pursue his golf career by attending North Carolina State University through their Professional Golf Management degree. While at NC State, Rackley played club golf for the Wolfpack.
Learning to Win
Although club golf is not the highest level of collegiate golf, Josh was able to hone his game and learn one of the most important lessons about tournament golf through the NCCGA: how to win. Putting up good scores on a golf course is one thing. Winning a golf tournament is a whole new beast. By playing on the NCCGA, Rackley learned how to string together good rounds and close out tournaments. He did just that back in 2012 at the first North Carolina Regional tournament of the fall season. Rackley posted consecutive sub-70 scores of 69-64 to win the regional by 7 strokes, and set an NCCGA tournament record. Along with playing collegiate golf, Rackley was able to complete his PGM degree and chase his dream of becoming a professional golfer.
Rackley's Big Break
Three years later, Josh Rackley once again found himself on top of a leaderboard, this time on a slightly larger stage. Rackley was competing in the Haverford Philadelphia PGA Classic. After 18 holes, he was 2 under par and tied with Jamie Komancheck for the win and a $100,000 first place prize.
Rackley and Komancheck went to a sudden death playoff on the 18th hole to determine a winner. On the first playoff hole, Komancheck saved himself by draining a 12-foot sand save to tie Rackley for par. He carried that momentum to the second playoff hole, sticking his approach shot to 10 feet for the win. After watching Rackley blow his birdie attempt 8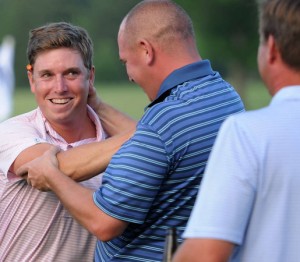 feet past the hole, Komancheck also missed his attempt long. With the pressure of the tournament and $100,000 on the line, Rackley stepped up and drained the 8-foot, uphill putt that happened to be the winning putt.
This is Josh Rackley's biggest win of his career. We are happy for Josh and his success on the golf course following his NCCGA career. Josh is a perfect example of just how far the experience and competition of club golf can take you even after college. Congratulations to Josh on a job well done, and be on the lookout for him and his future tournament play.
**Jack Stephens is the NCCGA Director of Communications, Reach him on Twitter @NCCGABlog.