The Iowa State Golf Club (@ISUGC) is entering its second semester of competitive play in the NCCGA Central Region (@NCCGACentral). As a member of the team, I couldn't be more excited for the upcoming spring season.
Twice a week since mid-January, the ISU competitive squad has been inside the campus rec center hitting balls in the provided batting cages, as well as chipping and putting on a 50x30 yard section of multi-use artificial turf the rec has to offer.  We have no option of going outside yet, as just last week we were hit with another snowstorm. Despite being restricted to indoor hour-long practices, we are making the most of our time and are anxious to put our skills to the test.
Last semester, our team finished third at the first NCCGA regional, and second at the second regional. Even though the team didn't qualify for nationals at Myrtle Beach, we had one golfer make it as an individual in sophomore David Stein (see video below on his unique pre-round eating ritual). It is definitely a universal goal of all members of our squad to make it to Nationals as a team during our second semester of competition.
While NCCGA tournaments are competitive, it's the experiences that keep us coming back. For those who love socializing, there's nothing like meeting a few guys from other colleges who share the same interest in golf as you. For those who are more introverted, the chance to play the game you love and have it mean something again can be a source of satisfaction.
Prior to the second day of our first regional tournament last year, our teammate and new NCCGA President Chase Russell (@NCCGAPresident) informed us that we could use our cell phones as much as we desired during our round. Personally, I found this a bit surprising, as we weren't allowed to use our phones in high school. I certainly wasn't objecting though. Like many other students my age, I'm constantly on my cell phone for one reason or another. Given the flexibility and lifestyle NCCGA provides, it's no surprise that the organization has experienced such tremendous growth over the past year. Below is a a photo I snapped of Adam's Pointe Golf Course in Kansas City, Missouri, before we teed off at our first NCCGA regional last semester.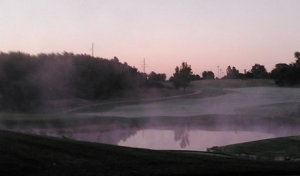 As an above-average golfer and lover of the game in high school, I can't describe how valuable it is for me to be able to play golf in college. I had made the decision of which university I'd attend about halfway through my junior year, and had a few smaller colleges send me stuff in the mail about playing for them, but by then it was too late; my heart was set on Iowa State.
Do I ever wonder what it would be like had I gone on and played varsity golf at one of those small colleges? Absolutely. Do I think I made the right decision in attending Iowa State University? You bet! Thanks to the NCCGA, I am now able to mix the best of both worlds. Being able to attend my college of choice along with the chance to represent my school is priceless.
Whether you're at a college that already has a club golf team and thinking about joining, or are wishing to start a team on your own, I highly encourage you to go through with it. I promise you won't regret it! Golf is a sport you can play your entire life. Why should there be a gap during your college years?
Look for updates on how the ISU Golf Club and I do in the future! And in the meantime, tweet at me @KFitzy87