As many of you know, we've been working with the Deutsche Bank Championship to promote their college ticket sales for the past two events. In a fun effort to build awareness around the special promotion, a dozen of CGP's most faithful were rocking orange #CollegeGolfBoys shirts on Monday's final round of this year's second FedEx cup event.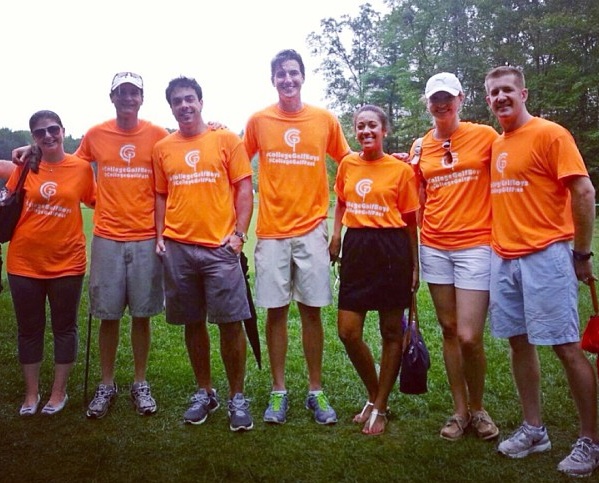 Unfortunately we didn't get to see as much of Monday's action as we would have liked due to the mid round rain delay which sent a large part of the crowd--including us--packing as it was unclear whether play would resume due to the ominous whether forecast and colorful radar. We did turn a bunch of heads as people couldn't help but stare at shirts that were challenging Ricky Fowler and Jonas Blixt's outfits last week...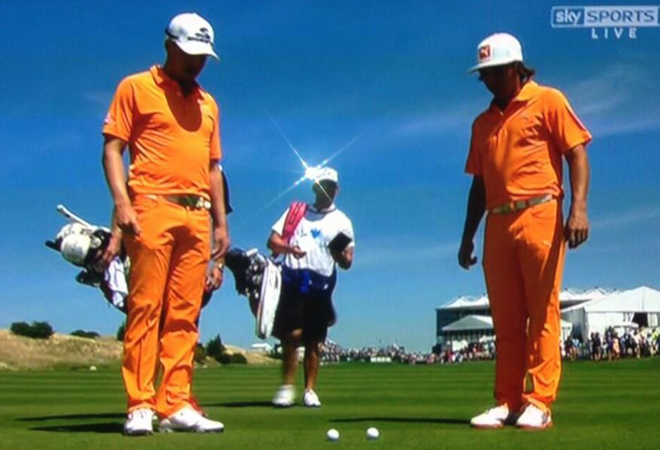 Nonetheless, we still were able to catch some of the field's best players going through including Tiger Woods, Jason Dufner, Ian Poulter, and Steve Stricker just to name a few. I snapped the below photo of the leading group on the 8th, a very tough 200+ yard par 3 over a marsh.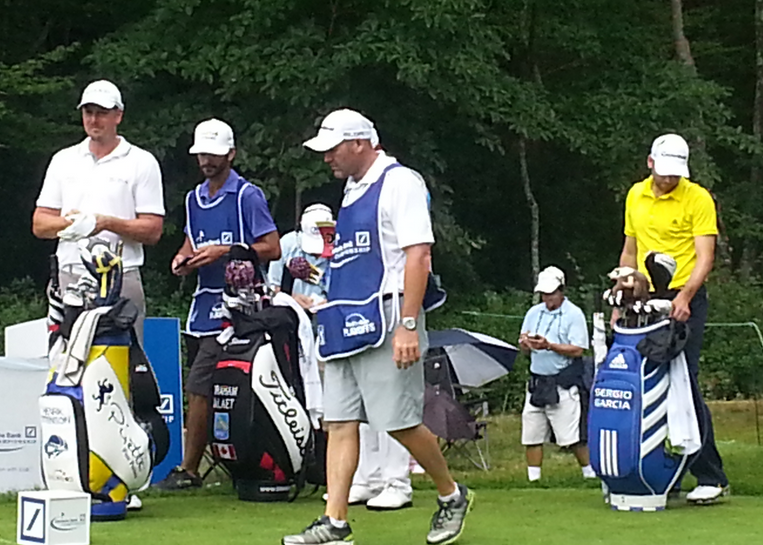 Sergio is always one to wear his emotions on his sleeve, and as Serg was already 2 over par on the round coming off a bogey on the easy par 5 7th, he was already pretty down in the dumps and didn't have the best body language (head down, didn't look confident etc.). Sergio is a phenomenal talent, but his mental attitude has not been one of his strong points. For those of you who don't know, that is Henrik Stenson on the left, standing a solid 6 foot 5. Stenson was absolutely crushing the ball all day, and hit one of the most impressive, booming, rain-making 6 irons close to the pin on 8.  As golf analyst love to say, "The ball made a different sound off his club"; but it's true, Stenson was in the zone as he went on to tie the Deutsche Bank scoring record at an phenomenal 22 under par.
The highlight of the event occurred on the 17th green when Stenson, with a two stroke lead at the time, pulled a shot from the middle of the fairway, 140 yards out, into a green side bunker on the left. Having short-sided himself, this was a pivotal moment in maintaing his lead over Steve Stricker who had just hit the 18th hole par 5 in two shots, sitting pretty for a birdie. Take a look at what Stenson did next:
Stenson has faced some tough times as Golfweek points out:
• 2010: Stenson won $683,070 and was 141st in the FEC standings;
• 2011: Stenson managed only $327,799 in earnings and was 180th in the FEC;
• 2012: Stenson improved slightly at $791,107 and 117th in FEC.
How ironic was it that Stenson and Stricker--two golfers who have hit rock bottom TWICE--were battling it out in prime for at the second leg of the FedEx. For those of us who have struggled with our golf games at time (so all of us, really), it's great to see guys like this stick with it and come out on top!
Wrapping up, the CGP team and #CollegeGolfBoys want to extend a special thanks to the team at Deutsche Bank for working with us to promote college tickets sales and getting young people out to the event. We had a great time doing so, and look forward to getting even more college students at TPC Norton in 2014!